Bully For You!
The Ezine for Pit Bull Lovers
Feb./March 2011 Volume 11
In This Issue:

What's Up?
Paws-i-tive Press
What's New at The Proper Pit Bull
Sarge--Dogs Are Individuals Too
Quote of the Month
---
What's Up?
What's up? It's a fair question since this issue is coming out at the end of February instead of the beginning. Among other things, I'm in the process of doing research on the issue of pet health insurance. As many of you know, one of my dogs required extensive treatment for an eye condition a few months ago. (She's recovered nicely. But, our finances are still "on the mend".)

Around the same time this happened, my brother-in-law called us from California with news of a horrifying incident with his dog--also a pit. He had taken Charlie with him on his morning jog. Charlie slipped his collar and ran into traffic. He was hit by a car going 30 miles per hour. My brother-in-law rushed Charlie to the emergency clinic. The bill was $9000! Lawrence put it on this credit card. He didn't have pet insurance either.

And so, I've been looking more closely at the pros and cons and ins and outs of pet insurance. One thing, the industry isn't as transparent as it could be. If fact, it's almost as convoluted as health insurance for humans. So, I'm gathering information and organizing it in a way that I hope will be helpful to others. In a few months, it will be available online in the form of a website.

I have special favor to ask. If any of you currently have or have had pet insurance in the past, would you be willing to share your experience with me in the form of a review of the company you used? I'm interested in your real life experience--good, bad or indifferent--with customer service, how your claims were handled and the like. These reviews will likely be published at some point. So, if you prefer to remain anonymous, use a "pen name".

You can send your review via this contact form. Thanks in advance for your help.



---
Paws-i-tive Press
Good News About Pit Bulls and the People Who Love Them
A true hero who stood up to an abusive owner and who didn't give up until "Blueberry" was safe!
Oakland Resident Honored For Saving Abused Dog
Here's a charming story in a series of pictures:
Pit bull "under attack" by a herd of bunnies!
Perhaps the tide of public perception is turning...
More people believe it's the owner, not the dog that is dangerous.
---
Check out Janie Knetzer's new blog -- find dog treat recipes and some very helpful dog tips.
---
What's New at The Proper Pit Bull
Reader's Share Their Pit Bull Pictures and Stories
Boopie
Honey
Charli and 'the gang'
Swagger
Max (the pit bull who saved me)
Your Questions Answered About...
Is it Ok to Rough-House with Your Pit?
My Pit Bull Tears Things to Shreds!
Puppy "Freezes Up" When Out for a Walk
Newly Adopted APBT is Growling at Our Kids
---
Sarge--Dogs Are Individuals Too
On May 16, 2010 the Beau Monde Creperie is packed with dog lovers who have gathered for the 2010 Philadelphia Barking Beauty Pageant. During the talent portion of the event, a slender blonde woman takes center stage with her 62 lb. pit bull.

"Sarge's talent," she announces, "is that he's alive!" The audience responds warmly with knowing laughter and enthusiastic applause. This wasn't just a tongue-in-cheek reference to his advanced age of 15 ˝ years. Rescued at the age of 14, Sarge was an abused dog.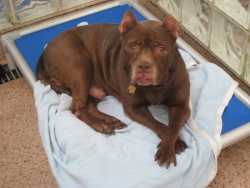 Bearing scars, untreated injuries and old fractures that hadn't healed properly, Sarge was removed from the home of a suspected dog fighter and puppy mill owner along with 30 other dogs in September of 2008. For the next 5 months, he would wait it out in a shelter (pictured left) being held as "evidence" until his abuser was brought to trial.

But in the spring of 2009, things finally started getting better for Sarge—a whole lot better. He was adopted by Kim Wolf and her partner Thad Stringer. And within just a few short months, Sarge became a certified therapy dog.

This would be a happy ending—except it's not the end. In addition to his therapy work, Sarge has helped raise money and supplies to assist other dogs in need. He's been honored as Humane Educator of the Year by the city of Philadelphia. And yes, he even won first place in that previously mentioned beauty contest!

So amazing is Sarge's story, I wanted to speak to his guardian, Kim Wolf, about it:

BFY: After being so abused, did Sarge take to therapy work right away or did he struggle at first with trusting people?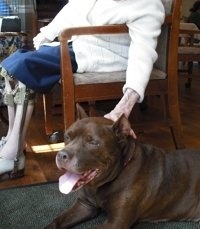 KW: Sarge was a natural! Sometimes people meet Sarge and don't know his background, so they assume we've had him since birth. They'll tell me, "He's so sweet -- goes to show that it's all how they are raised." Sarge was raised by a person who abused animals, and look at him now! Once Sarge was removed from an abusive and exploitative situation, he immediately welcomed the love, respect, and TLC we showed him.....and immediately reciprocated to everyone he met!

BFY: What would you say to someone who is on the fence about adopting a geriatric dog?

KW: I would share with them a quote from Betty Friedan: "Aging is not 'lost youth' but a new stage of opportunity and strength." I will admit, we adopted Sarge (at age 14.5 years old) thinking we'd enjoy a couple good months together, at most. Sarge sure showed us! In the two years we've spent together, he has accomplished more and influenced more people than most dogs do in an entire lifetime!

BFY: Has working with Sarge changed your life or your thoughts about life in some way?

KW: Sarge has changed my life by showing me that every dog is an individual, regardless of his/her physical appearance, age, or background. He taught me that amazing things will happen when you view each dog as an individual, rather than relying on the labels placed on them!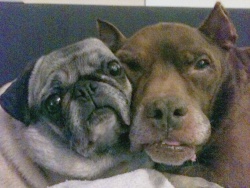 Sarge is pictured here with his 'girlfriend'--a 10 year old rescued pug named Mary Todd Lincoln.

If you'd like to stay updated on Sarge and what's happening in his world , be sure to check out Elderbulls Blog.




---
Quote of the Month
The life of a dog is unique to that dog and that dog alone. Many people expect their new dog to be (exactly) like their old dog… I can tell you with certainty that that will never be the case!
~Vera Wilkinson CDBC, CPDT-KA
Cooperative Dog Blog
---