Max - The Pitbull Who Saved Me
by Wendy
(Guffey, CO)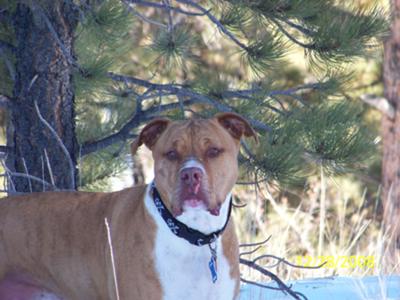 Max the mountain dog!
I got Max at a 7-11 store in April of 2003 when he was 7 weeks old. I was told he the last of a litter of 15 puppies and the owner had to get rid of them since he lived in an apt.


I had a drug problem at the time and I do believe Max saved my life. How could I look at this sweet friend and not "be there" for him? How would I have felt if he had caught some disease because I couldn't afford to get him his shots?
So, I cleaned myself up and have been clean since early 2004. I HAD to be there for this beautiful, precious dog who just adored me almost as much as I adored him.
Max is a very gentle and sweet soul who is very vocal. His favorite words are, wooo, woooo, wooo, woooo! His talking is one of my favorite things about him(and he talks all the time)besides his sweet, gentle nature.
His biggest goal in life is to "please." One day he knocked a squirrel I had been feeding off the fence and was within inches of having it in his mouth when I yelled "No" to him and he just stopped in his tracks and laid down.
In 2005, I lost my 19 year old son to cancer and it was a very difficult time as one could imagine. I cried a lot and didn't know how I was going to make it through. Lo and behold if Max wasn't right there when I was sad and in tears over my son's illness, and then his death in March of 2005.
Max would lay his big head on my lap or on my shoulder and look at me in such a way that I just knew he had to "feel" my pain as well and was trying to tell me everything would be ok. Max has always been full of love. He's a lover, not a fighter!
Max was again there for me in 2007 when I lost my oldest son to suicide. He brought me much comfort in the most difficult times of my life. He is my constant companion. Max is the best dog I have ever had (first Pitbull), and I have had a lot of dogs over the years.
It's hard for me to understand the bad reputation the pitbull has knowing how my Max is. He seems just the opposite of what their reputation implies. I owe my dog a lot and I will always be there for him as he has been for me.