Find what you are looking for faster. Search this site.


Are Pit Bulls Dangerous?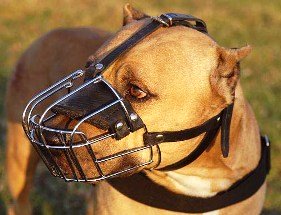 When someone asks "Are pit bulls dangerous?", my first inclination is to say something like "Define dangerous". I know it sounds kind of evasive. But seriously, look up the word dangerous in the dictionary. What you'll find is: ". . able or likely to cause physical injury . .". And in this context, "able" and "likely" are worlds apart.

There is no doubt that pit bulls are "able" to cause physical injury. Indeed, any dog with teeth and claws is capable of inflicting injury.

According to the CDC, about 4.5 million people in the U.S. are bitten by dogs each year. And 20% of those have an injury serious enough to prompt them to seek medical attention. And yet, nearly 40% of American households own at least one dog. So, how scared are we, really?



Apparently, we're not very scared at all when it comes to dogs in general. But what about pit bulls? Are pit bulls dangerous--or likely to be? Back in 2000, the CDC released a report that cast a negative light on pit bulls and rottweilers involving fatal dog bites. They later added a disclaimer to their conclusions acknowledging that the sample was very small (.00001 percent of all dog bites) and that some of their presumptions weren't based on actual data, but on assumptions that couldn't be verified.

Unfortunately, like the newspaper retraction that gets buried on page 34 when the original inaccuracy was a front page headline, more people read and cite the report than the disclaimer. And I think it is this along with some very biased and flawed reporting by the media in general that has led some otherwise reasonable, intelligent people to conclude that pit bulls aren't like regular dogs. They are some kind of monstrous aberration.

Chris Rock even made a joke on Jay Leno to this effect saying that Michael Vick's punishment was too harsh. To quote: "What the hell did Michael Vick do, man? A dog, a pit bull ain't even a real dog. A pit bull, that's the white stuff. Dogs are white mans best friend – dogs have never been good to black people." And the audience laughed. They thought it was funny.

Sidebar

A lot of people mistakenly think that NFL quarterback Michael Vick spent nearly 2 years in prison for animal cruelty. That's not quite true. In 2007, Vick was convicted on a federal conspiracy charge related to his dogfighting operation. During the course of the trial, it came to light that Vick and others executed "underperforming" dogs by drowning, electrocution, hanging, shooting and in one instance, slamming a dog to the ground breaking its bones. While there was certainly public outcry when this was uncovered, it was not what sent him to prison. His prison term was in connection with the conspiracy charge.
Are pit bulls dangerous? There's no undisputed evidence that pit bulls are more dangerous than other dogs. Even the CDC now says they have never compiled a list of dog breeds that are considered the most dangerous or most likely to bite.

But, there is a profile of characteristics of dogs that are most frequently involved in bite incidents. And, it's a profile that it seems everyone who has seriously studied dog bites agrees with. Top of list? Guess what--it has nothing to do with breed. It's an unneutered male that is left chained in its yard.


Now It's Your Turn to Speak Out
Are pit bulls dangerous? Why or why not? What, if anything, do you think should be done? Your thoughts and feelings are important. Ultimately, public opinion will shape the fate of these dogs.
What Other Visitors Have Said
Click below to read contributions from other visitors to this page...

Go from Are Pit Bulls Dangerous to Pit Bull Homepage
---
---
---
"Breed specific laws are not based in science. [Laws] banning breeds will not make you safer, and the illusion that they will do so is dangerous to humans and unfair to dogs."
~Dr. Karen Overall~
---