Bully For You!

The E-Zine For Pit Bull Lovers
Red nosed pitbull photo courtesy M. Gupta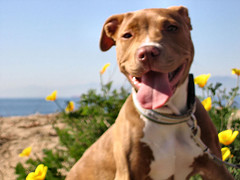 Want to stay up-dated about this website and other matters of interest to pit bull lovers? Don't want to be inundated with emails several times a week? No problem. Bully for You! is a tightly constructed monthly e-zine designed to educate, inspire and delight you.

Each month, I scour the web for positive stories about our favorite breed and deliver whatever I find right to your inbox. I share national and local items that are newsworthy and update you on new features and articles on The Proper Pit Bull website.

And, there's always a feature article just for Bully for You! subscribers that you won't find anywhere else! There's even a Quote of the Month.

To give you an idea, here are some of the stories and articles that have appeared in past issues:


The Story of Wallace: From Shelter Misfit to Disc Dog Superstar in One Year
Is Your Homeowner's Insurance Putting You in the Dog House? Find Out What to Do.
The Story of Neville: Forsaken by His Family and His Country, Neville Finds a Home in the U.S.and a Job Working Homeland Security.
Would You Know How to Stop a Dog Fight? Now's the Time to Get a Plan!
The Story of Buster: When a Philadelphia Family Took in a Homeless Pit Mix, They Couldn't Have Known He Would End Up Saving Their Lives.
How to Introduce Your Pit Bull to Other Dogs
Michael Vick's dogs: Where are they now?
Check out a
back issue.
So, what have you got to lose? Bully For You! is fun. It's free. And, you can unsubscribe at any time--though I don't think you'll want to.
Return from Bully for You! to Pit Bull Homepage