How You Can Help Support
The Proper Pit Bull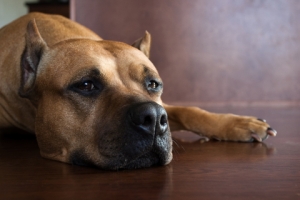 How does a site like The Proper Pit Bull support itself? The Proper Pit Bull is a free, informational website provided as a service to pit bull enthusiasts and members of the general public who are looking for balanced, straightforward information about these much misunderstood dogs.

I write all the content for this site as well as for the ezine, Bully For You! without compensation. And yet, it does take time, effort and money to research and write original articles and deliver them to you in the form of this website and the ezine.

Rather than charge for content, I have chosen to defray the costs of building and maintaining The Proper Pit Bull through pay-per-click advertising (Google Ads) and affiliate referral fees.

How Affiliate Referral Fees Work
From time to time I suggest products or services that I have used myself or that have been recommended to me by someone I know and trust. When you click on a referral link and make a purchase, this site may receive a referral fee--but only if you have entered the vendor's site from a link on The Proper Pit Bull.

For example, let's say you click on a link on this site that recommends a training book for sale on a vendor's site. You decide you want the book and purchase it immediately. The Proper Pit Bull will receive a small commission for referring you.

On the other hand, lets say you click on the same link, but you decide to think it over. The next day you go directly to the vendor's site and purchase the book. In that case, we would not be credited for referring you. Not because of the time lag--but because you didn't access the book through our referral link.

Now that you know how this works, here's how you can show your support. If I've made a recommendation that you've found helpful and you intend to make a purchase, please do it through the link on this site or from the e-zine. This will have no effect on the price you pay which will be same whether you buy through a link on this site or directly from the vendor. And it will allow me to continue bring you free, original content about these wonderful dogs. It's a WIN-WIN-WIN for you, for me and for the vendor.

My Current Affiliate Relationships

Ask A Veterinarian powered by Just Answer. This is an excellent online vet service that I have personally used. I was so impressed by the quality and speed of response that I recommend them to you as a resource.

Canis Clicker Training - I love this program! It makes training fun for you, fun for your dog AND it's effective. If you want to train your dog with positive methods, this is the approach I recommend.

Dogwise.com - Purveyor of "All Things Dog", they stock over 2000 dog related books plus toys and show supplies.

Only Natural Pet Store
- An excellent pet supply retailer that specializes in products made with natural ingredients.

PetSmart.com
- Let's face it. With over 12,000 products, PetSmart is the "Wal-mart" of pet supply retailers. With the exception of some specialty items, you can find just about anything you need here.

Site Build It (SBI) - This is the only non dog-related recommendation I make on this site. And I make it for one reason--it works! Site Build It is what I used to build The Proper Pit Bull and one other site at a time when I had no technical knowledge of how to build a website. Now that I'm reasonably tech savvy, I continue to use them because the keyword research and monetization tools they offer are unique to them, and in my opinion, unsurpassed. I have yet to find a better value anywhere on the net.

SitStay.com
- An excellent source for high quality pet supplies and training aids. Great place to get clikcer training materials that you won't necessarily find elsewhere.

If you have any questions about my advertising policies or the companies with whom I have affiliate relationships, feel free to contact me. Thank you for your loyalty and your support.

Sincerely,

Gale Henrard
Owner, The Proper Pit Bull







Return to Pit Bull Homepage

---
---
---