Bully For You!
The Ezine for Pit Bull Lovers
December 2010 Volume 9
In This Issue:

...A Fully Bully Holiday
Paws-i-tive Press
What's New at The Proper Pit Bull
Guest Article: Pet Transport Review by Lisa Smith
Quote of the Month
---
Have a Holly Jolly Fully Bully Holiday Season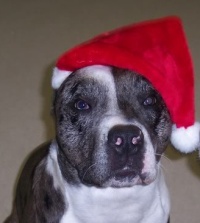 Ok, it's THAT time of year and while I've been shopping on the internet for gifts, I couldn't resist passing along a few pit bull themed items I've found that I think would make wonderful presents to give or get.

For kids: I can't imagine a kid (or a grown-up for that matter) who wouldn't love this beautifully illustrated children's book--
Demo: The Story of a Junkyard Dog
. Inspired by the author's own beloved pibble, the story weaves together lessons about caring for the environment, prejudice, second chances and more.

Another children's story book that instructs kids not to "judge a book by its cover" is Riley The Lovable Pit Bull
.

For adults: Pinups for Pit Bulls puts out an annual calendar that has become increasingly popular over the last couple of years. This year, it's Pinups for Pitbulls 2011 Calendar - A Media Circus
. This calendar is reminiscent of the old timey pin-up calendars of the 1940's and 1950's featuring pretty women in sexy outfits striking PG rated poses --and in this case, along with pit bulls. For the right person, this gift will be a real hit.

But, for those who just aren't into the whole pin-up concept, I have another suggestion. Another great calendar featuring our favorite dogs is The Unexpected Pit Bull 2011
. Both calendars are priced at around $20 and both pass proceeds on to pit bull rescues and anti-BSL groups so your gift keeps on giving.

And, for the true pit bull lovers in your world, I've seen some very classy Pit bull art posters
in every imaginable style and price range. I'm partial to the ones with a retro look like this one by Christine Head--Jonny Justice: Former Michael Vick Dog
. Not only is it beautifully done, it has historic significance as well.

Of course, this list wouldn't be complete without gifts for our fur children. To me, the ultimate gift for a dog is a REALLY comfortable bed. A well padded bed is a balm of comfort to an arthritic dog and it can help younger dogs avoid developing aches and pains in later life by placing less stress on their joints now. That said, this Orthopedic Bed with 4" of Memory Foam
may be just the ticket to truly pampering your pittie this year. And you'll appreciate the washable cover and waterproof liner.

For those of you who like the convenience of "one-stop shopping", all the above mentioned items can be purchased through Amazon.

And, what about toys--especially ones that will last into the New Year? For that, check out this article and visitor comments on the topic of pit bull tough toys. Happy Holidays everyone!



---
Paws-i-tive Press
Good News About Pit Bulls
and the People Who Love Them
You won't believe the side by side pictures are of the same dog! Found, Friended and Saved Through Facebook

When I shared this on Facebook, I got comments like, "This is the best video ever!!!" An innovative program aimed at turning at-risk youth away from dogfighting.

Singer/songwriter, John Shipe is available to perform for fundraisers. All he asks is that you cover his travel expenses and provide a place to sleep. You can contact him via email johnshipe@johnshipe.com. Check out his video: Pit Bull Blues!

---
What's New at The Proper Pit Bull
Reader's Share Their Pit Bull Pictures and Stories
Copper
Buddah
Manda Sue
Raleigh
Bogey
Your Questions Answered About...
Introducing Your Pit Bull to Concerned Family Members
Helping a Camera-Shy Pit Bull
Aggression Towards Family Members
What are the Chances a Loved Dog Could Turn on You?
A Special Thank You
As some of you know, my sweet 11 year old Blanca has been through an ordeal recently that culminated into her needing opthalmalogic surgery. I am happy to report that she did have her surgery on November 30th and the procedure appears to have been successful.

She has a follow up appointment in about 10 days to have her eye stained so that the vet can see whether the cornea is healing as it should. But, for the time being, she appears to be a pain-free, happy dog. And, we've finally gotten her out of that blasted e-collar. (Yay!)

I'd like to thank all of you who supported us with prayers, donations and loving thoughts during this difficult period. You made a real difference in our lives and in Blanca's. Please keep us in your thoughts. And, I will post updates on Blanca's page as we have them. Again, thank you.




---
Guest Article: Pet Transport Review
by Lisa Smith
Packing up your life and moving far away is hard enough, but it can quickly become a nightmare if you own a large dog.

Most commercial airlines have weight restrictions. When you arrive at the airport, they weigh the dog inside the crate. Your dog won't be allowed to board the flight if the combined weight exceeds 100 lbs, even if you offer to pay extra. In addition, many airlines enforce breed restrictions, including Pit Bulls and Staffordshire Terriers.

Short-nosed dogs aren't allowed to fly during the hottest or coldest months of the year. These dogs are especially vulnerable to heat stroke. According to the Department of Transportation, 122 dogs have died since 2005 while traveling as cargo. At least half of the dogs were short-nosed breeds. Ground transportation is slower and more expensive, but ultimately it may be a safer and more convenient option.

In May I moved from Los Angeles to the midwest. After much stress and many phone calls, I got in touch with a licensed pet transport company in Texas called We Move Pets. They provided door to door service and called me with updates every day. My dog arrived safely within a few days, and I would highly recommend them to anyone.

Moving with a large dog, especially a Pit Bull, is challenging but it can be done. Thoroughly research any company before entrusting them with your beloved pet: ask your veterinarian or local animal shelter for recommendations, check the Better Business Bureau website, and be sure that the company is licensed by the USDA.

Editor's Note: You can find out more about the company Lisa used, We Move Pets, at their website. Another service you may also want to check out is KatManDog Express.

Coming Next Month: Celebrating Senior Pit Bulls--including tips on helping your Elderbull feel his best and helping younger dogs stay healthy into their golden years.

---
Quote of the Month
A dog is for life, and not just for Christmas.
~National Canine Defense League slogan
---