Bogey
by Cara
(Columbia, SC)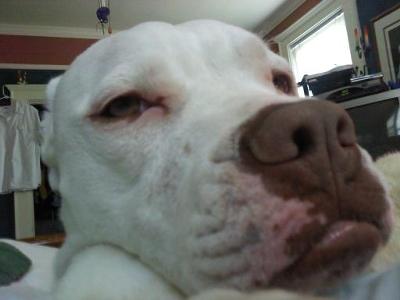 My favorite thing to do......NAP!
I am a one year old pit-bull rescue! I was rescued by a pit bull rescue when I was a little puppy and was emaciated and full of fleas. Someone also tried to crop my tail using the "street way." My tail is crooked due to that, but is cool now!


My mommy was looking to rescue a pit bull because she HATES how we are treated sometimes by the mean owners. The rescue made sure my mommy was going to provide me with a good loving home so they did a home visit and interviewed her. She passed and now I live with her! YAY!
My favorite thing to do is sit on my mommy's lap! Even though I am grown she still let's me because she loves me sooooooooooooo much! I also like to sleep under her covers and sometimes I have my own pillow too.
I think my most endearing quality is that I am cute. ;) My mommy and I like to play fetch and go for rides in her jeep. She is the best mommy ever!
Are you enjoying this site? Finding it useful?
Your donation in any amount can help us reach out to more people
who want to know the truth about pit bulls.


Thank You for Your Support!

Return to Pit Bull Homepage