Manda Sue
by Shaelyn Conlin-Grey
(Walworth, WI)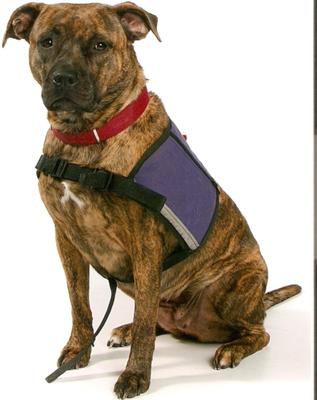 Service Dog Extraordinaire
If someone, ANYONE; had told me even 5 years ago that I would be the proud owner of a pit bull I would have told them to see a doctor because there would be no way that I would have anything to do with such vicious, hateful dogs! Funny how times change.


In 2007 I was introduced to Wishbone, an amazingly loving pit mix and fell in love with his goofy personality. In 2008, after having to put my Corgi down, I adopted Manda a move that ended up changing my life in ways I never could have imagined.
Shortly after bringing her home I was injured and a medical condition that had always been hiding, came to full light leaving me scared and feeling terribly alone. My daughters noticed that before I would get really bad, Manda made "weird noises" that she never made any other time. With their help we kept track of these noises and what was happening with me and low and behold, approximately 90% of the time Manda was alerting us nearly 15 minutes before an episode!!
After bringing this info to my doctor he smiled and said "The dog that you thought you were saving, is actually the dog that could save your life!" That comment really struck me. There were so many dogs at the foster home that day, all of them so wanting to finally find their forever home; and yet I picked her.
Manda wasn't my first choice, which makes it even more amazing!! There was a little dove coloured male that I fell in love with, but my then boyfriend mentioned that dark pits have a difficult time getting adopted..people equate dark with bad attitude...that was all I had to hear, I always go with the underdog!
A seemingly random series of meeting this man, meeting his dog, and then adopting Manda ended up being far more than mere backdrop in my life.
Manda is a typical pit: goofy, energetic, loving, tolerant of even the most intensive rough housing by little kids, and loves to steal all the blankets on the bed at night. She is loyal, intelligent, and has protected me in the past to the point where she could have been harmed in keeping me safe.
I love the look on her face when she sees me grab her service vest, I swear it lights up like a child's on Christmas morning and her whole body wiggles with joy. She truly enjoys going about our day together, and it doesn't matter to her if it is a beautiful day or cold and rainy, she is always at my side and I am so lucky to have her there.