-> SWAGGER n PENNIE <-
by kasey
(virginia)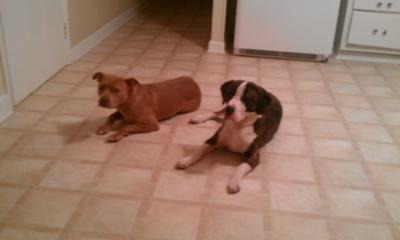 my babies (:
SWAGGER - he is a pit mix, my bf and i got him from a friend when he was just teeny tiny and now hes a big boy! He will be 1 next month.


One of the funniest things he's done - he was in the back of my bf's truck, we went inside the house for not even 5 minutes and when we came out he was on the roof of the truck! He loves to get himself in big trouble but i love him.
He has separation anxiety so he has a hard time when we leave without him even for just a few minutes! He's very hyper, loves everyone he meets, other dogs and treats.
He loves walks, Petsmart and car rides. Oh and he chases ANY and EVERY other creature that walks, flies or crawls. lol I wouldn't trade him for the world.. and I hope he wouldn't trade me for any other owner in the world (:
PENNIE - she is full pit.. we adopted her. The shelter said she's 2 but we believe she may be younger.
When we first brought her home she had a very hard time adjusting to Swagger but now they are best friends. She was very very scared of me and my boyfriend. She would stay under the table and would NOT go outside after dark.. but now 4 months later we have finally gained her trust.
She's much more comfortable. She goes potty after dark, she loves to cuddle, she doesn't hide under the table anymore, she's not scared to do what she wants.
We love just being lazy laying in the bed together, cuddled up. She's an absolute lovee bug! I love her and wouldn't trade her for the world! (:
I absolutely LOVE my two babies <3