A true family member
by Chloe Hayes
(Springfield, MO, USA)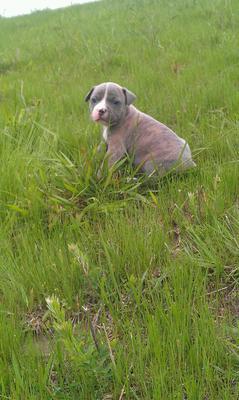 Baby Looney
Ms.Adalynn Elizabeth will be three years old March of 2014. She was the runt of her little and the tiniest thing ever! She was a gift from my Aunt because I had recently lost my previous dog.


I have both the grandpa, and grandma to adalynn, so its just a big pit party! Adalynn's story goes like this. I got her at 4 weeks old because her mama had 16 pups and they were sucking her dry and would have ended up killing her so I got her very young and had to bottle feed and basically be her mama...
She began to grow up and became one of the best dogs I have ever seen and or owned. My little "runt" is now 87lbs of nothing but kisses and love. She had the biggest personality for a dog, I had never seen anything like it.
And boy oh boy does she have some major emotions!!! You can't cry around her unless you want all 87lbs smashing into your face for kisses and to lick your tears. She takes such good care of me and I know that when I have nobody else to be there for me, she always will be. She takes care of me when I'm sick, sad, mad, and or happy.
I got her at such a young age that I feel like she has become so dependent on me to be there for her. I am almost positive she has major separation anxiety. There was one summer that I went out of town for a few days and it was the first time that I didn't take her with me, but she was just getting too big to lug around like that.
In a matter of four days she managed to eat: 2 wash clothes, a tennis ball, and a pair of folded tube socks.. All because I left for a few days. I rushed back into town and met my mother at the emergency animal hospital. Everyone told me to put her down and that she wasn't going to make it.
I laid on the cold floor with my dog who was just as cold as the floor and she smelled like death you just wanted to gag.. They said I could try surgery but it would cost anywhere from 3000-4000 dollars. Now I was 15 years old at the time and was going to do anything to save to my little girl. My best friend's mom gave me a 1000 dollar loan to begin the surgery which took 7-8 hours.
Finally,
they came and said that she was stable still doesn't look promising but she made it through the surgery which was cutting her belly open and going thru 10 feet of intestines 10 times sewing up all the holes she had caused in the lining of all her organs.
After about two weeks my baby was home and still not feeling good. She had her whole belly stapled up and boy was she moody. Eventually after about a month and a half I had my "Looney Bin" back which is her nickname. I'll say the one thing I missed about her when she was in recovery is her talking to me....
She is one of the most vocal dogs and its so cute; however, before she had the surgery I use to joke about having her vocal cords taken out cause she does nothing but talk! I have never said that since her surgery because it made me realize how much I enjoy her annoying need to talk. That's one thing I will always cherish about her.
Its been a year and six months since her surgery and she is doing great. Had the plan of breeding her when she went into her fifth heat, but decided against it because theirs enough Pits out there that don't have a home and I didn't want her pups ending up like that.
There was also the fact that her last heat which was her fifth was the worst yet on the scale of her being moody. She had never acted like this before, she also got in her first dog fight and ended up biting me but then apologizing for it over a month and I know she didn't mean it. She was just warning me to get the hell out of it.
The last thing I would like to say about her is she is one hell of a dog when it comes to the people she loves she'll do anything for. My mom was diagnosed with breast cancer last summer and I didn't handle it well.. When my mom was going through chemo and radiation Adalynn was there for her through it all she took such good care of my mom and I do believe she is one of the only reasons my mom made it through her treatments. She kept my mom emotionally okay when I couldn't.
Adalynn Elizabeth is the most human like, caring, sweetest baby with the biggest personality a dog could have. She is my baby and I don't know what I would do without her.