Ace
by Amelia
(Charleston, SC)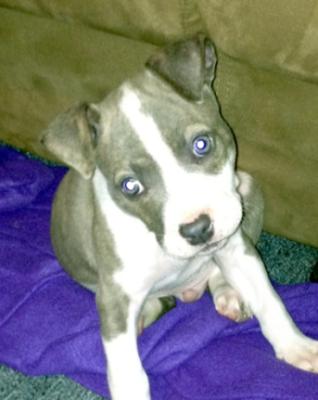 Ace is a 14 week, blue brindle APBT. I got him from a friend when he was just 6 weeks old! He is such a joy to have around.


I will admit that I had some reservations about the breed, but after a considerable amount of research and getting to know the breed myself I really feel that I have made the right decision by adopting Ace!
I have two daughters age 11 and 7 and a 16 month old nephew who he loves to play with... Prior to Ace I had two lap dogs and although he's no lap dog he's so adorable and lovable... We have so much more time to grow together but he's already a hoot!
He loves to snuggle in my daughter's snuggie, and now that he's getting older and can jump on the couch he's found a new place to lounge... Despite the fact that he has his own bed.
I enjoy every moment with Ace, especially when he tries to take over the leash and walk himself! Ace is by far the most loveable affectionate dog I've ever had!
Are you enjoying this site? Finding it useful?
Your donation in any amount can help us reach out to more people
who want to know the truth about pit bulls.


Thank You for Your Support!

Return to Pit Bull Homepage