ALL ABOUT MY WONDERFUL BULLY BUDDY, DADUH!
by COURTNEY M. CERTAIN
(LAFAYETTE, INDIANA)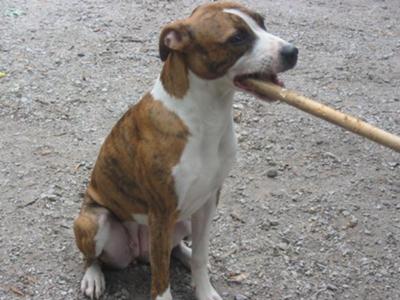 (Click thumbnail for full size image.)
Dacha is a brindle pit bull:
I bought Dacha when she was 5 weeks old and she is almost two. Her birthday is December 10th 2008. She is the love of my life.
At the beginning she got into the chewing stage and she drove me crazy. But now I am so happy she is out of it. We have been teaching her and she is learning the right things at a good pace.
She doesn't really run off anymore. She comes when I call for her. She knows how to sit, lay down, stand on her back feet. She knows how to shake with both front paws and she knows what it means to go "night night" and "bye bye". And she loves to swim and play with me, her Mommy!..
She loves her Dad and I even tho we aren't together. When I tell her he is coming she gets really excited and starts whining until he gets here.. It is so adorable. She loves to sleep with me in bed. Under the covers and on a pillow. Sometimes she is a traitor when her dad comes around. But I know she loves us both!..
When I went to Florida she cried to two days after I left and I was gone for 6. She is really attached to me and she has always been but she still is her daddy's girl even tho she lives with me.
Her full name is Dacha Renee Minardo. Her Dad calls her Dacha Marie. I don't know why but she comes to both names. Her nickname is Daduh. And she comes to it also.
We need to work on the climbing and jumping on ppl when they walk in the door. But we will get it down pat eventually.
Dacha is a really good people person. She loves anyone who is willing to acknowledge her. She loves it when grandma and grandpa come around.
My baby girl is the light and heart of my life. Nothing and no one would ever change that. (Until I have my own kids.) But other than that I love her and she is such an amazing dog. She has her own unique and wonderful personality and she lights up my life one day at a time.!
I have tons of baby pictures and grown pictures of her I will be uploading off of them on here!
Thanks for visiting my Daduh girl's page and have a wonderful day!!!!!