Anna the Pit Bull Who Saved Me
by Sam
(Illinois)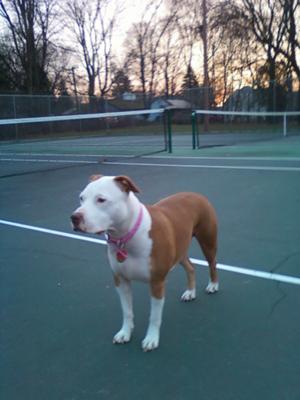 Anna on top of the ramp
(Click on a thumbnail to see full size image.)
Anna is 3 years old, I got her from some friends who train pit bulls. The funniest thing she has ever done is put 2 tennis ball in her mouth at once. The best quality about Anna is her unconditional love for me. She never leaves my side she is always there for me and my family.
I like to take Anna on long walks, going and running around at the park. She loves going hunting, and swimming. Anna is a huge part of my life, she has saved me a few times now.
The first time was we were at a park and I was approached by a few people, they wanted my money. I had let her off the leash and she wasn't around me. All of a sudden they turned around and there was Anna with her head down and her teeth showing, lets just say they didn't want my money anymore but they did need a clean pair of shorts.
Another time she helped a friend, we were at a party at my house and a girl fell a sleep on the couch. Well she had been drinking quite a lot that night and Anna was laying on her lap. When a bunch of guys came in the room and tried to get close to her, Anna sprung into action and would not let anyone except me near my friend. Anna is a loving a caring Pit bull I don't know what I would do with out her.
Return to Pitbull pictures archive July 2010.
Are you enjoying this site? Finding it useful?
Your donation in any amount can help us reach out to more people
who want to know the truth about pit bulls.


Thank You for Your Support!

Return to Pit Bull Homepage