Azenja An Angel
by Tina Mack Prentice
(CT)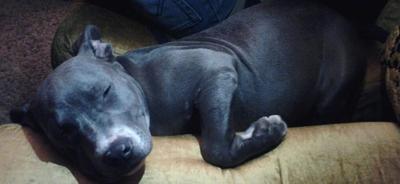 A Sleeping Angel
The story of how Azenja came into my life will touch your heart....


After my husband of 15 years left me in June of 2012, I hit a really sad point in my life by losing a friend who was very special to me. She had come to see me days before she decided to end her life and I can't help wish I could've saved her. Losing Anna, really hit me hard.
Got a doggy Named Azenja AnAngel
Sent an invitation to my friends to go visit Anna. As fate would have it, Azenja was sent to us through Fawn. It just so happened I sent out that invitation to go visit Anna on a whim. I didn't realize until after I sent the invitation that it was ALSO Anna's Birthday!!
Call it a coincidence or miracle either way a precious spirit lives on....
R.I.P Anna
(I made a little play on words to help people pronounce Azenja by saying it sounds like..."I send ya" an ass whippin' if you mess with me or my master but I just realized it was Anna saying "I send ya" a little angel to watch over you.)
Join in and write your own page! It's easy to do. How? Simply click here to return to Pit Bull Pictures.
Are you enjoying this site? Finding it useful?
Your donation in any amount can help us reach out to more people
who want to know the truth about pit bulls.


Thank You for Your Support!

Return to Pit Bull Homepage