Bane
by Aubrey
(CT)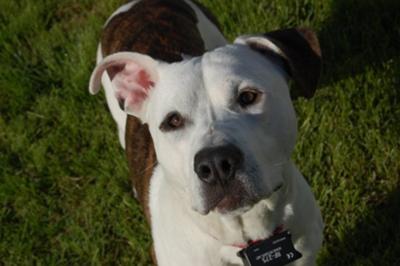 (Click thumbnail to see full size image.)
Bane is our 2-3 year old pit bull mix. He has funny, floppy ears that never seem to fall the same way, a huge head, expressive eyes, and he whines like the biggest baby you've ever met - especially when his Daddy is not paying enough attention to him.
We found Bane accidentally. I had come across another pit bull in a Providence shelter via PetFinder who was on the "urgent" list. I convinced my boyfriend to go check her out. We brought along my Pug Emma to meet her - turns out she did not like little dogs so we knew it would not work out.
In the cage next to hers, I noticed "Brenner", a very calm, very sad dog sitting nicely while the other dogs jumped, barked, and howled. He had been picked up as a stray on the streets of Providence but was housebroken and knew 'sit'. We decided to take him out and sure enough he and Emma liked each other so that sealed the deal.
After some paperwork and neutering, he was ours. We renamed him Bane and soon found that he had a much wackier side than the one we'd seen in the shelter. He was hyper, chewed up anything left within his reach, and pulled on the leash.
The shelter staff had estimated his age about 2 but our own vet said he was much younger than that at the time we adopted him. He put on 40lbs in the following year and finally began to settle down.
We recently added an Olde English Bulldogge puppy to our fur family and they keep each other busy. He is great with her; he lets her climb all over him and chew up his face.
Bane has come a long way since the shelter. He once got his head stuck in a big plastic jar out in the yard because he is so curious about everything. Yes, we got it off of him - but it was funny when it occurred!
He also loves his Jolly Ball that he can not seem to destroy. He occasionally steals the puppy's small Nylabones and manages to shred them to pieces within minutes, and he tried to eat the couch a few times, but otherwise he has settled in nicely and has become a full member of the family.