Baylie girl you are gone but never forgotten .. we miss you so much
by Casey Lee-Anne See
(Fox Creek Alberta Canada)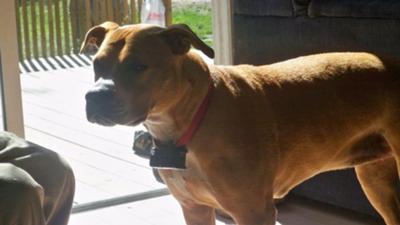 (Click a thumbnail to see full size image.)
This is Baylie she would have been 12 years old this year.. We had to put her down because another dog from a farm down the road attacked her.
When I first saw Baylie I knew there was something wrong with her. It wasn't her appearance that caught my eye--it was her reactions. She was timid around people like she thought they were going to beat her. So one day my step father and I sat in the car on the side of the road by the owner's house and saw why she was like that.
It was horrid what we saw. We saw the owner hit her with the broom and kick her to get her in the house. She was locked up from 6 am to 6 at night. Only being let out once a day.
Right than i knew i had to do something. A few days latter I approached the owner. (She was one of my moms old friends). And I asked her up front.. "How much for the dog you beat the s**t out of"? She did not deny the claim I had made and didn't defend herself. She just looked at me and said "free". "She's not worth anything anymore since she cant breed".
So that day I took her home. She was skinny enough that you could see every one of her ribs. So I gave her a lot of food. She was scared to eat around other dogs so I had to take her into another room and sit with her while she ate.
Over the 1st year I had her I noticed alot of things that she was scared of. The broom the mop a spatula and even cords. So I knew the abuse she went through was more that what I saw sitting on the side of the road that day.
We had over 3 more years together and over thous 3 years she became more and more trusting with people. If someone came near me the last year of her life she even started to growl at people unless I said other wise.
My fondest memory with Baylie is when it would storm, ( this was alot where i lived because the beach near by created its own weather) she would lay on my bed and work herself under the covers, pull her body right beside mine and than stick her nose under my pillows or lay her head beside my chest. Almost as if the sound of my heart beat calmed her down.
Baylie loved to run with me or play fetch. She was always good with kids and other animals (after she came to me..) She was an angel in my life and I'm sure I was hers. We miss you Baylie and we will never forget you!
REST IN PEACE GIRL
November 5th 2009