Beautiful and Happy dogs. Big happy family.
by Stephanie
(Malibu, California)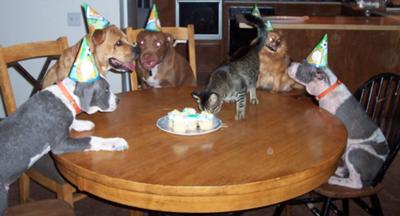 Ava & Tyson's birthday September 2010
I started out with a Pomeranian, she was queen bee for 5 years, Ava. November 2009 my daughter brought home the cutest Pit Bull puppy, Tyson. At the time Tyson was smaller then Ava.


Currently Ava is 10 pounds and almost 8 years old. Tyson is now 108 pounds, and almost 2 years old. They get along perfectly, travel, sleep, hike, eat and play together. Tyson has grown to be one of the most handsome dogs, his personality is so low key and loving. He is a great dog.
Last year I rescued and foster two puppies from a local shelter. Everyone gets along perfectly. It is fun having four dogs around, they are like children. Each has its own personality.
The foster pups were scheduled to be destroyed the next day because of health issues, additionally this shelter euthanizes twice a week, and the Pit Bull breeds are always on the top of the destroy list.
It broke my heart to know these two young pups did not have a chance-So I rescued them and took the haul to nurse them back to health. In June they celebrated their first birthday. They are brother and sister, and I appropriately named them Chance and Hope.
We have one problem in the home. When I take care of my nephew's dog, who is a American Bull Dog / Golden Retriever Mix, Dodger. He attacks Tyson. Tyson will not even see Dodger coming, he blind sides him. Once Dodger attacks he won't give up. We separate the dogs and Tyson tries to get away, then Dodger will try to attack him again.
Days go by and the two get along as though nothing happened. Dodger is very high strung and dominant. However, he does not attack the other three dogs at all, only Tyson. If I am home alone
Dodger does not want to fight. When guests come over, or you play with the dogs in the back yard it triggers something in Dodger and he becomes overly aggressive and scary. It sometimes seems as though he is showing off, jealous, and wants to be in control of Tyson.
Tyson avoids Dodger when he is showing aggression. I just can not quite pinpoint where Dodger's problems lies, what triggers him? We have to put Dodger away when guest are here. The fights are very scary, and Tyson has had to be taken to the vet 3 times due to Dodger's attacks.
I wish we could get to the root of the problem to find out what it is that is triggering him, so we can prevent it. Right now the only way to prevent it is to just put Dodger away while guests are here. He also JUMPS on people. I can't break that habit either.
It is a relief that Tyson does not want anything to do with Dodger's fighting. Dodger weighs about 68 pounds and is very athletic and has tons of energy. Tyson as I mentioned before is low key and weighs 108 pounds, just big goofy love.
Besides Dodger's visits and aggression, all the other dogs live in harmony and are a joy to have-3 Pit Bull and 1 Pomeranian. I love the expressions on people when they see Tyson and Ava being walked. They look like the odd couple. Regarding the foster pups, I am extremely happy that I was able to rescue the pitty puppies. They are a joy to have in my home.
Wanted to share the happy story of the three Pitty pups, and the Pomeranian. Also wanted to see if you have any suggestions regarding the visiting American Bull Dog / Golden Retriever mix?
Have a beautiful day.