Bella Marie Giles
by Carrie
(Conowingo MD)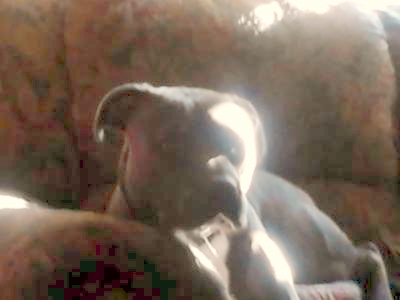 Bella is a blue pit bull. I came across her picture after she had just been born and it was love at first site. I wanted to buy her for my husband. He had never had a dog not even as a child. What better breed to be your first pup?


She came from Kentucky. The guy that had the litter would not sell to stranger but by luck I knew his nephew. Bella is akc but honestly even if she hadn't come with papers and was a mix I still would have wanted her. I fell deeply for her!
When she was old enough to leave her mommy the man drove from Kentucky to Maryland to bring her to me. he said ever since she was born she was the calmest pup he'd ever seen. Plus Bella needed to be cuddled at all times which was great for us. Yes we are those type of people that sleep with our pets. They are treated as if there any other family member here.
I got her chew toys and trained her with tricks right away. She's been the most easy dog to train to very very smart. I had a pomerian so that's why I got Bella for my hubby.
Bella also loved my pom but after three months of having Bella my neighbor's pitbull attacked and killed my pom--which i never felt like because it was a pitbull. That's why I believe in owner irresponsibility. If their dog was animal aggressive he should not have been running free, muzzle or at least on chain.
But
after this happened I got extremly protective over Bella and that put my on the course to learn any thing and every thing about pits.
Now one day when we get a new house with little more property my dream is to take in rescue pitbulls and let them live the rest of there lives with my family who cherish them and who now fully understand the breed. Ro be honest I probably wouldnt own another breed now espically after seeing the kind of love bella gives out.
She's a year old now and not one time even as a playful pup has she showed a sign of aggression. I have been an arguments with family members and strangers who see Bella and claim pitbulls are bad news. I will fight for this breed and do whatever it takes for people to see what great dogs they are and how its the owner that makes the dog.
I hope to own another pit soon but this time I will help one that needs a home or thats been abused. But I can say Bella would change even the hardest headed person's mind about pitbull dogs. She has a way of looking to you with these eyes that make you instantly fall in love with her.
Bella even knows how to kiss you gently and yes she's sixty pounds and still sleeping in the bed with me and my husband and we wouldnt change one thing about her. God bless and please enjoy your pets there only on earth short while so enjoy them and love them uncondinally