Blue Pit 32, Blue Pit 32, Hike! Introducing USC's new Quarterback Bentley!
by Tania
(Mehra)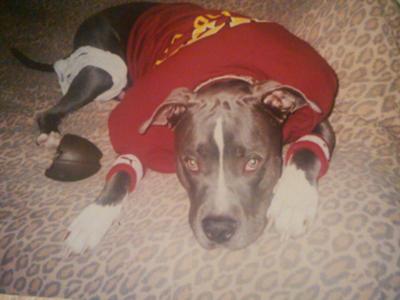 Long day out on the Feild. Gonna rest up before trick or treating.
As the owner of a Pit Bull Bentley proves to be the prime example of how capable Pits are of being insanely loving, cuddle bugs, intelligent, loyal, gentle, handsome, someone stop me already....this dog has changed the minds of many ignorant individuals who have stereotyped the breed. He owns my heart as well as the hearts of everyone he meets.


After joining the Dog Actor's Guild, Bentley's first audition landed him a role as Othello in a series of Shakespearean inspired dog plays. The dog Park is like Disneyland to him and he truly is the center of my universe. I've moved for him, thrown him birthday parties, jumped through hoops to have him in the best of care when I travel, he's the perfect co-pilot on road trips and my hiking buddy and motivator.
He's also my little seismologist as he sensed earthquakes on different occasions and serves as my very own personal exterminator. The second I let out a little yelp he comes to my rescue. He loves kids and cats and can be taught just about anything.
For Halloween I decided to dress Bentley up as a USC Football player. I have an obsession with football and have spent many Sunday's curled up with Bentley on my bed from morning to night. He looks like a total beef cake in the jersey and his buff build is just the icing on the cake. Everyone always says that Bentley has the greatest little butt cheeks. I figured his natural assets would make up for the lack of butt pads in his uniform. LOL!
Please vote for Bentley. He totally fits the mold of a resilient, passionate, hard working athlete. He deserves to win!!!!!!!! Thank you all so much. Tania and Bentley
Are you enjoying this site? Finding it useful?
Your donation in any amount can help us reach out to more people
who want to know the truth about pit bulls.


Thank You for Your Support!

Return to Pit Bull Homepage