Blue Pit Bull Bella
by Lindy
(Asheville, NC, USA)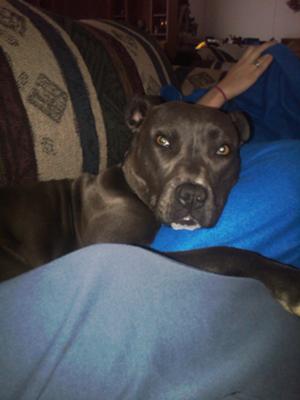 just hanging out
Our Blue Pit is named Bella. She's about 9 mos old now. My son got her when she was 4 mos old. We also have cats and she doesn't mind them very much, which is a good thing!


She likes playing in the snow and with our other dog which is a rescue dog, named Bo. When she's playing in the house she thinks she has to put all her toys in her mouth at the same time and carry them around!
She is loyal, beautiful and very sweet! I wouldn't trade her for anything!
Join in and write your own page! It's easy to do. How? Simply click here to return to Pit Bull Pictures.
Are you enjoying this site? Finding it useful?
Your donation in any amount can help us reach out to more people
who want to know the truth about pit bulls.


Thank You for Your Support!

Return to Pit Bull Homepage