Bruno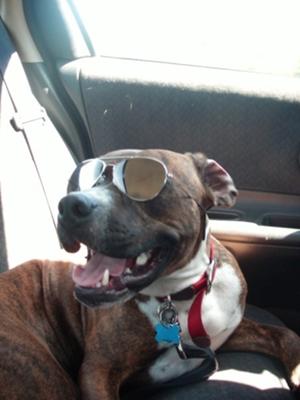 Good lookin
(click thumbnail for full size image.)
Bruno is a 3 year old brindle boy. I have had him since he was 6 weeks old. I got him when I was 1 week away from my 18th bday and was going through hard times. He really helps me through everything!
We love going to the dog beach, visiting his friends and cousins, and playing tag or hide and seek in the house(seriously, I fall on the floor laughing!).
He is the goofiest dog ever. If I'm laughing, he knows I like it (he's like a comedian), so he keeps doing whatever it is that's making me laugh. He smiles when he's excited and sometimes looks bashful, it's cute. He entertains himself if he is bored. He will toss something and go run and get it for half and hour. He is such a sweet boy and he knows I'm his Mom. I love the bond we have. There is so much to say about him, I can go on all day!
He has tried to rescue 2 kids already this year. One time a kid was in the lake floating with his back up. Bruno swam over to the kid and nudged him with his nose. BUT, the kid got up and was just messin around.
ANOTHER time, there was a kid running along the beach at the dog park. Bruno and I were just hangin out and then a dog ran up to the kid and was visciously barking(as if to say, "YOU CAN'T RUN ON MY BEACH!!").
I was thinking in my head I should do something. The kid was scared and backing away. The dog kept going forward... BRUNO comes to the rescue and starts to bark at the dog (as if to say, "LEAVE THE KID ALONE!!!!").
So, the dog stopped and Bruno walks back over to me. The dog goes back and does it again, then the dog/s brother comes in behind the kid and bites his butt!
So, Bruno has attempted to save strangers(children). What sucks is that Pitbulls don't get on the news for good deeds. And other breeds don't get on the news for attacks, if it was a pitbull it would've been all over the news.