Cali - <3
by Jennifer C. Smith
(Jersey Shore, NJ)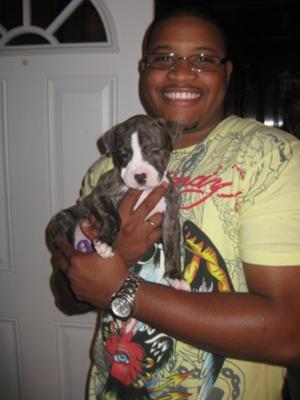 Cali at 6 weeks. We would visit her once a week before being able to take her home.
Cali<3 is the best thing that happened to us. We named her after we vacationed in California in June 2009. Upon our return we adopted her.


She came into our lives unexpected in August of 2009. After visiting a nearby shelter we stopped to pick up lunch at a local Wawa and bumped into a childhood friend. Without even conversing about adopting a puppy or dog we exchanged phone numbers just because we haven't seen each other in a few years.
Once home we were searching online local shelters looking for Pit Bulls to adopt. My fiancé Adrian contacted another childhood friend that recently adopted a Pit bull to find out where he came from. During their conversation his friend mentioned the same friend we ran into at Wawa and that his dog just had puppies! (Ironically this was all in the same day)
We contacted his friend and drove over to his home, right away we fell in love with Cali. She was the first born out of 6 pups. We had an instant connection with her.
Cali is now 1 year and 5 months. She is loyal, smart, friendly and lovable. Many people that only heard horror stories about the breed told us we were making a mistake and that the breed is dangerous.
We already have two 6 year old cats and friends tried to convince us that a Pit bull will attack and hurt them. Well they were certainly wrong. Cali respects our cats and loves them as they are part of her family. She loves us and would never hurt anyone.
We have socialized her around other dog breeds such as golden retrievers, miniature pinchers, Labradors, and other Pit bulls. We even bring her back to the friend that we adopted her from to visit with her mother and other pups from the litter.
She is extremely smart and remembers just about every command after 1 training session, at 1 years old she understands words such as, come, sit, stay, lay, paw, catch, ball, bone, cookie, outside, walk, go, door, daddy, mommy even Wubba (her favorite toy).
We absolutely love her and so do all of the people that had their reservations about us adopting her. We love taking her for walks, to the park or beach. She will run play catch and never leave 50 feet from us. She also enjoys taking pictures! Cali is very photogenic!
Thank you for taking out the time to read our story. We recommend this breed and will strive to always speak highly and help promote the great qualities that have been tarnished by terrible owners.