Captain Morgan AKA Mo, Hoony, Hoss etc...
by Brie and Ian
(Denver, CO)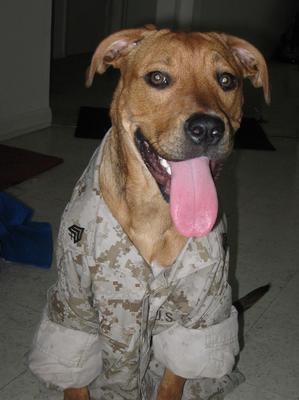 Mo is approaching 6 years old now. We got her as a 12 week old pup to celebrate my then boyfriend (now husband) returning from Iraq and us getting our first place together.


Mo's most enduring and probably funniest thing she does is what we call a "trust fall". She will sit on the couch with us.. not look back and fall backwards into our laps/arms.
While my husband has been deployed a total of 4 year long tours, Mo has been the best company and best at-home protector while we await his return. (Although during 1 deployment she decided to tear up just about everything around her....except the one shirt her daddy left for her to sleep with-still in perfect condition 3 years later.) She is the absolute best companion you could ever ask for. :)
Are you enjoying this site? Finding it useful?
Your donation in any amount can help us reach out to more people
who want to know the truth about pit bulls.


Thank You for Your Support!

Return to Pit Bull Homepage