Cave Dog, Bones
by Reyna Queen
(Hi-Desert, CA, USA )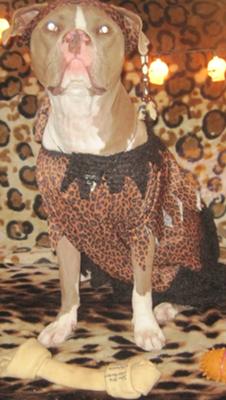 The Cave Dog!
The Cave Pit- at 2 months old was all skin and bones when his previous owners gave him away. He had Parvo and weighed 9 pounds; you could see all his bones from his shoulders to his hips. When I met him for the first time he wobbled over to me, almost toppling over from the weight of his big head. All I could think of when I looked at him was all the bones sticking out, so I named him Bones.


I fell in love, took him home, and nurtured him back to health. Like a cave beast, he started to eat all his food in one breath and under 30 seconds. Eighteen months later, Bones is a healthy 65 pounds and he is a model pit-bull who quickly learns tricks like high-five, turn around, hop, and a high-five up high on his hind legs!
Bones is dressed as a cave-dog because of his beastly appetite. He gets very excited when it's time for treats and he plays with his treats like a cave-dog would. Not only does he have a pre-historic appetite, when he's not eating… he's sleeping! Watch out for this pit, if you move your meat you're gonna lose your seat! He loves to keep your spot on the couch warm and he snores louder than a freight train!
Bones deserves your vote because he is a survivor! He is lovable, disciplined, and loves to have his picture taken. I am so happy to have him in my life and I hope you enjoy his cute face!
Are you enjoying this site? Finding it useful?
Your donation in any amount can help us reach out to more people
who want to know the truth about pit bulls.


Thank You for Your Support!

Return to Pit Bull Homepage