Cerebus
by Miranda
(Indiana)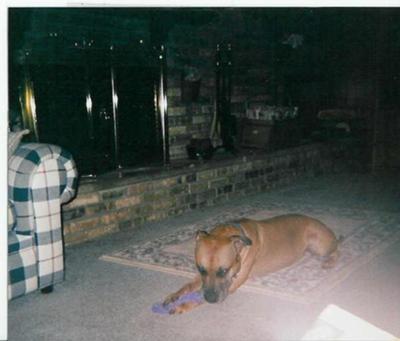 playing with his toy
(Click thumbnail to see full size image.)
Cerebus was my baby boy. He passed away from cancer. He lived to the ripe old age of 11. Even after we found out he had cancer we made sure to get him all the treatment he needed. I think the only reason he died when he did is cause he gave up after his daddy died in a car accident. He was the sweeties pit bull you would meet.
Even if he got out and ran the neighborhood he never bothered a soul. He loved McDonalds he knew the arches. He loved eating double cheeseburgers. He also loved his grandpa and his daddy alot. He loved his toys. He would keep them together until like a week before christmas. Think he always knew he would be getting new ones.
One time we had been cleaning windows and we must not of gotten one in all the way cause when we were done we went to get ice cream came back and he had pushed the screen out and was just laying in the front yard waiting for us to get back. And then looked at us like "hey what's up"?.
Return to Pitbull pictures archive August 2010.
Are you enjoying this site? Finding it useful?
Your donation in any amount can help us reach out to more people
who want to know the truth about pit bulls.


Thank You for Your Support!

Return to Pit Bull Homepage