ChiChi & Violet
by Kathy
(Columbus, OH)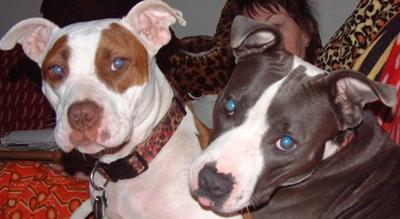 Aren't we pretty girls?
I am a volunteer at the CHA animal shelter in Columbus, Ohio and have been a pit bull advocate for many years. I previously had pits bulls and other breeds, but pit bulls are my favorite breed because they are so loving and loyal.


When ChiChi came into our shelter, I immediately fell in love with her. She is a blue and white beauty that was seized in an abuse and neglect case when she was just a puppy, she is 4 years old now.
She spent her 1st year of life in another shelter while a case was being prosecuted against her previous owners. She then came to my shelter and I wanted to adopt her, but I had another older female pit bull at home that wasn't always dog friendly with new dogs - so I wasn't able to adopt her at that time.
She was at our shelter for several months before she was adopted. I was happy that she found a home, but sad to see her go. About 5 month later she was returned to our shelter because a neighbor of her adopters had threatened to turn them in for have a "vicious" pit bull, or they were going to poison her - so they returned her to keep her safe.
When she was returned, I felt it was fate - that I was meant to have her in my life. She came back in late July and in August I learned that my Blaze had mast cell cancer, stage III. She passed away 2 months after her cancer diagnosis and it was heart breaking because I had gotten her as a puppy 9 years earlier while I was
undergoing chemo and radiation for breast cancer. She was a very special girl and is missed every day.
My male dog Buddy had never been an only dog and didn't do very well after Blaze passed away, so my husband and I decided to adopt ChiChi, but she was very timid and didn't make up to strangers very well. When I took my husband to the shelter to meet her I was amazed that she let him pet her on the first visit.
We then took Buddy to meet her and they did really well together. ChiChi had a best friend at the shelter that was found as a stray who had been at the shelter for about 7 months, a red and white pittie mix named Violet who is 3 years old now, so we decided to adopt both of them - and Buddy couldn't be happier about it.
We have had them both now since November 2010 and I can't image life without them. ChiChi is still a little shy and timid at times, but she has really come out of her shell with the help of Violet and Buddy - she is a very happy girl now and they are all very loved.
They enjoy playing with their Nylabones, jolly balls or just romping with each other. ChiChi is sweet and innocent and Violet is ornery and is always getting into mischief - she keeps us laughing.
They are both great snugglers, but Violet is the lap dog. She will climb in my lap at night and fall asleep while I pet her and ChiChi sits beside us and sleeps. They are all great dogs and I am lucky to have them.