Chopper Joya-Smith
by Deneen Joya-Smith
(Wilmington, NC - USA)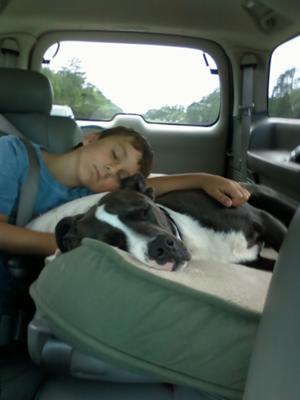 Tanner and Chopper going to Pisgah Froest to visit Mike!!
(Click thumbnail for full size image.)
My family and I rescued Chopper three months ago from an animal shelter. We were told that the family was evicted and left him in the home alone. He was about 1 1/2 yrs old.
When we first drove up to meet him - we all fell in love. We walked up to him and he was so excited to see us his tail was going a hundred miles a minute. We took him into a room and played with him - talked to him - kissed him and loved on him.
Chopper already knew a couple tricks and he seemed to love our youngest son Tanner - then 7 yrs old. We decided we wanted to take him home with us but knew he had one more test to pass... WE HAVE THREE INDOOR CATS AT HOME!!
So we took him into a room full of cats and his tail was wagging and all he did was sniff them - we were in heaven and ready to take Chopper home...
Chopper adjusted very well - the cats however didn't... Midnite our 17 lbs 3 yr old black boy adjusted first. He reminds us of a panther... sleek - long - shinny black coat with a small face...
Next up was Cha Cha - she is a tortoise and about 1 yr old and weighs 10 lbs. She will still swipe at Chopper when he walks by her.
And last but not least - Mary - she is our gray tabbie 4 yrs old and weighs about 13 lbs. She is just starting to come around. When Chopper first come home Mary would lay on the night stand next to him and just stare at him while he slept... Because he
was in his crate she felt safe... lol Now she will get up on the bed with him and sniff him...
Chopper loves to go for rides in the car. He hears my keys and runs for the door - he loves walks - hardly ever barks - loves to play catch and run around our fenced in back yard... We have yet to have him at the beach but looking forward to the experience.
I feel the most endearing thing Chopper has done with me is one day it seemed like he knew i was having a bad day - wasn't feeling well - he came up to me looked at me laid next to me and sniffed me - nudged me - and gave me kisses as if to say don't worry mommy I'm here... i will never forget that day.
Chopper also loves to follow Tanner around every where he goes... Tanner has even taught him tricks like to lay down and stand up. He is now working with Chopper to give us his paw...
There are a lot of funny things Chopper does like runs around the yard with a huge soccer ball in his mouth - he will toss it from his mouth and then chase it... he loves to play and will get so into it that he will fall off a bed or couch... then he looks at us like what just happened... lol
As you can tell I simply love everything about him - my whole family does!!! You know how they say if you get one tattoo you will be addicted and want more?? Well that is how i feel about our American Staffordshire Terrier Chopper - I just can't get enough and I am ready to adopt more!!!