Color of puppies
by cheyenne
(rockford, il, usa)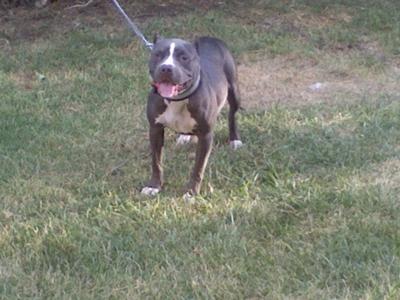 heres my blue girl
What color of puppies would I get from this breeding?


I'm going to be breeding my male blue nose Gotti. He's white with brindle grey-ish blue patches and weighs about 97lbs. Nice stocky body and nice blocky head, he's 1 1/2 years old.
My female is blue nose Razor she's blue and white in color and weighs about 60lbs nice body and nice head.
If I breed them what colorings will preferably be on the pups. Will they all have brindle markings or is there a way i could get some solid blues or whites?
Gale's Reply:
Hi Cheyenne
Let me state right from the beginning, I am opposed to backyard breeding. Just because you have two healthy, nice looking dogs, doesn't mean they should be bred.
Right now, animal shelters are overflowing with friendly, healthy, nice-looking pit bulls who deserve a second chance, but won't get it because there aren't enough homes for them all. Bringing more pet quality pit bulls into the world just makes matters worse. Millions of dogs are suffering because of it.
But let's set all that aside for just a moment. Let's imagine there's actually a shortage of pet pit bulls. Should you be breeding yours? I still say no. Why? To be frank, it's pretty obvious you don't know what you're doing.
If you had the requisite knowledge to breed properly, you wouldn't have asked the question you did because you would:
1) be more concerned about health and temperament than coat color
2) know that it's impossible to predict coloration by merely looking at pictures of the prospective sire and dam.
The genetics of color is actually a pretty complex topic. But, if you simply can't sleep without an answer to your question, then I suggest you read the following:
APBT Genetics of Coloration
. Even if you're not able to figure it out, the article itself may have a sedating effect on you.
However, I would strongly encourage you to reconsider your plans. If you love this breed, there are lots better ways to serve the pit bull cause than bringing more puppies into the world.