CONNOR - MOMMY'S LITTLE BOY
by Kristen Fondi
(Fair Lawn, NJ)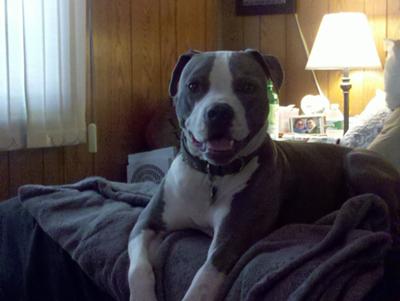 Connor came in to my life when my sister still lived at home. He was one of 11 from a litter of my brother's and they wanted a good home for one of the 2 blue pitties. Little by little, we all saw that this "Lil Man" was my boy. My fiance and I have taken him under our wing and he is now our son.


His energy is crazy! He used to be crated but after numerous escapes, the last one resulting in us coming home to him bloody and bruised, he is no longer crated.
We have brought him to an incredible trainer... with all the bad press these gorgeous little pitties get, we wanted to be resposible owners. He is great on a leash, listens to commands, but is extremely high strung.
His best friend is Casey, our 11 year old black lab pit mix. Being that Casey was already 9 when Connor appeared in our lives, she dealt fine after a while.
All this little guy wants to do is smile, give kisses, and pittie hugs. He's a sucker for a warm fleece blankey. He paws at the blanket and he's out like a light ... most of the time!
He has opened my eyes and although I always liked pit bulls, he has made quite an impression on my heart. He shows such an unconditional love! I am determined to show people that these are THE most underappreciated and misunderstood breed.
Connor is my little man and I am thankful to have him in my life.