Cracked paw pads
by Stephanie
(Malibu, California)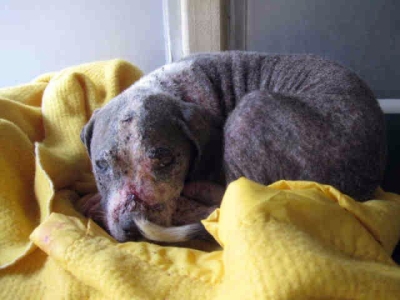 Chance at the shelter 8/6/10
How to help a dog with red, cracked paw pads possibly due to allergies?


I had the honor of rescuing two Pit Bull puppies from a shelter here in Camarillo. Due to the economy and overcrowding this shelter manages its overcrowding by euthanizing twice a week.
When I saw the photo of one of the puppies that had been brought in it broke my heart and I went to rescue him with the help of a Pit Bull rescue group here in Los Angeles. I knew he did not have a chance. When I went to the rescue I discovered that he had a sister.
Both the puppies were covered in mange. The boy 90% of his body, and the girl 40%. Wonderful vet in Santa Monica stepped up to the plate and offered free skin test and free medicine to help the puppies conquer the mange. It was a long hard road for all. I can happily report that the mange is gone and these pups are happy.
We appropriately name them Chance and Hope. Here are a few photos showing their journey this past year.
Today I'm writing for some advice on food and allergies. In the past two months the male pup, Chance, has developed very red paws. They sometimes crack and bleed. I have been told by two vets that it may be allergies.
One vet wanted to do a very expensive blood test, the other wanted to wait on the blood test and just put the dog on a hypoallergenic diet & antibiotics.
If the diet did not show results in six weeks, then the expensive blood test. I have chosen to do the later, as of yesterday I have him back on the Blue Buffalo Salmon food that he had been on while fighting the mange.
My question is: Are the Blue Buffalo foods hypoallergenic?
If not what hypoallergenic dog foods have you had good luck with?
Also any advice and experience anyone has had on this paw/allergy, please pass on. I am all ears.
Thank you for your help, stories and advice.
Stephanie and the pitty pups.
Gale's Reply:
Hi Stephanie:
Many people feel that dogs with allergies are better off eating foods with fewer ingredients since there's less chance that something in the food will trigger a reaction.
Blue Buffalo does carry a line of limited ingredient food called "Blue Basics" that is designed for dogs with food sensitivities. There's a
Salmon and Potato Recipe
in that product line. That may be what you're already feeding.
Personally, I think Blue Buffalo puts out excellent products. I feed my dog their Wilderness (grain-free) formula. Merlin doesn't have allergies. But, if he did, I'd probably go with the Blue Basics line.
I've never had to deal with a dog having cracked paw pads. But I think it's pretty common. So, perhaps others will chime in about their experiences.
One thing I wonder about is whether your vet suggested booties to protect Chance's paws--especially if they are cracked open. Seems like his pads could easily get infected without some type of protection.