Danny Boy Sanspree
by Donna Sanspree
(New Orleans LA)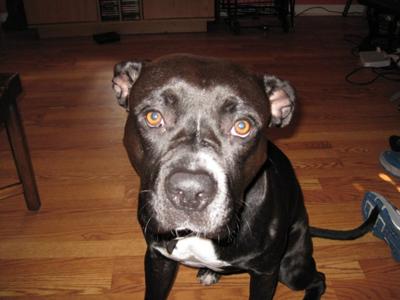 On a frigid day in February of 2009 they found me. I had been dumped out of a car with 9 of my brothers and sisters. I was cold, hungry, and scared. My belly was bulging with worms. my ears were big and floppy, but my tail was wagging at full steam. I was the last one and when she picked me up I had no idea how things would change for me and my forever family.


My boy Kaleb had wanted a pittie for years but his Mom (now my Mom) was against it. NO PIT BULLS!!! They are DANGEROUS, MEAN, FIGHTING, DUMB, well you know the list, it went on and on. Amanda, Kaleb's sister is the one that brought me home, I walked right in and went up to my new mom and took a big poop right at her feet! She laughed and said I wouldn't last long.
That was almost 2 years ago and my family could not love me more. My Mom found out that I was SMART, GENTLE, SWEET and a LOVER and is an advocate for pitties now. She loves telling people how WRONG she was. Also I got a new sister recently and she's a pittie like me.
I love hanging with my boy and playing tug o' war, napping on the sofa. Yeah, I'm a lucky boy!! I just wish all my brothers and sister made out as good as me.
Join in and write your own page! It's easy to do. How? Simply click here to return to Pit Bull Pictures.
Are you enjoying this site? Finding it useful?
Your donation in any amount can help us reach out to more people
who want to know the truth about pit bulls.


Thank You for Your Support!

Return to Pit Bull Homepage