Dealing With Loose Canons--Other People's Dogs
by Stephanie
(Malibu, California)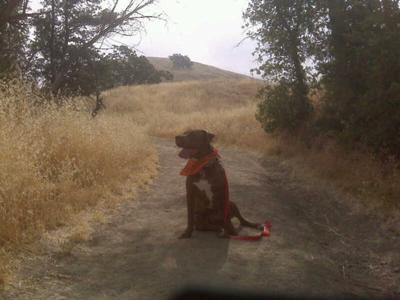 Tyty on his hike.
I have had my dog since he was two months old. In my original home we walked / hiked every morning on a local trail. When I moved to my new and current home (30 minutes from original home) I found a great trail to continue our daily hikes, this started when he was seven months old.


On his third hike as we were passing another person with dog, their dog lunged and bit my dog on the nose, meanwhile dragging his owner to her knees. My dog yelped and tried to flee, then hid behind me. The other dog was a yellow lab.
Then a month later as we were leaving the hiking area, a Jack Russell escaped from it's owner car, running and barking towards us. The Jack Russell was nipping at my dog. My dog yelped again and tried to flee. The owner of the Jack Russell finally got control of his dog.
Next, a few weeks later a Australian Shepard LOOKING dog lunged at him, barking and snapping. I had my dog at a short leash and was able to just keep walking, but it did startle my dog.
Since then I have learned to just keep walking and never greet others when walking towards each other. There is a dog and it's owner that walk without a leash, luckily the dog is very sweet and mellow. When I see them coming I turn and let them walk together for awhile, sniff and greet.
However, and this is why I am writing, not all dogs and their owners are like the latter I mention.
My dog and I walk comfortably and he stays at my pace and does not pull. When I see others coming and their dogs are on those long retractable leashes or not on leash... what do you do?
My dogs fur stands on end and he gets scared. If the other dog reacts my dog reacts, he usually at this point pulls towards the other dog now. Also a dog in our family has attacked him, he runs and avoids. My fear is the fear that is in him now controls his current behavior, and I'd like to help him stop this and be more relaxed. He is two years old now.
My dog has been to dog parks, day and night boarding. He has been temperament tested and passed with FLYING COLORS. Trainers love him. When he goes to boarding whether day or night he is allowed to play with all the other dogs and there have been no
incidents like the ones that happen on the hiking trail.
What do you do and how do you help your own dog, when other dogs are misbehaving and the owners don't have responsible control of their own dogs?
Gale's Reply:
Hi Stephanie:
This is a great question. Sadly, so many owners think it's ok to let their dogs hike off leash with no consideration for anyone else who might be on the trail. It doesn't matter that their dogs may be highly social and non-aggressive. There are dogs (like your Tyty) and humans who have a trauma history that sends adrenaline running through their system at the sight of a dog that's not controlled by its owner.
I'm guessing that Tyty isn't the only one experiencing a stress reaction when you encounter a loose or poorly controlled dog on your walks. You are probably tensing up too. And, Tyty will sense that--confirming in his mind that there is indeed cause for concern.
From your description, it sounds like you've gone out of your way to socialize Tyty well. He seems like a very balanced and resilient dog. And, lessening his reactivity when he sees another dog on a walk may come down to managing your own anxiety better.
Consider carrying some form of deterrent with you like an umbrella or a walking stick. There are also sprays you can purchase such as Halt! that is used by postal service workers. If you are carrying a stick, it's purpose is to give the errant dog something to grab onto other than you or your dog. It's not actually intended as a weapon. But having it in his mouth can keep the other dog occupied until the owner arrives and takes charge.
The Halt! spray is a pepper spray that's been approved for canine use. It's purpose is to temporarily disable a threatening dog. Of course, if you purchase such a product, it's important to read the directions carefully so you know exactly how to use it before you actually need it.
Simply having a tool or two at your disposal may boost your confidence enough that Tyty is able to relax too. But, if you feel he still has more residual reactivity to other dogs than seems reasonable, you can work with him on a program of counter-conditioning.
The Cautious Canine - How to Help Dogs Conquer Their Fears
by Patricia McConnell is an excellent resource along this line.
Good luck. I'm sure a lot of folks here would like to know how you resolve this if you'd care to share.