Donas
by Cheri L. LoVine, LPN
(Grantsville, WV U.S.A.)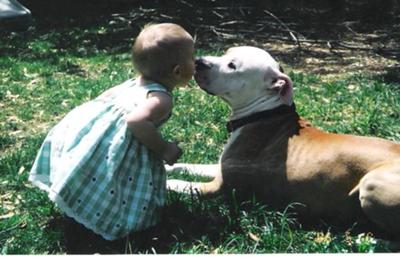 Donas kissing Sierra
My Donas Registered name is "LoVines Revenge" came into my life when I was going through a nasty divorce. I was really sick with life threatening issues and he never left my side. He is able to sniff out illness and broken bones and will lick to let you know he's marked them.


He loves to go fishing and will whine to let you know when your bobber gets a hit. His favorite thing to do besides fishing is a "car ride" and can be seen in my car everywhere I go. I have come out of the grocery store to find people laughing and taking pictures of my boy.
He begs for Mr.Softy ice cream worse then any kid...lol He also listens better then any of my kids ever did! He will sit perfectly still and let meandering deer pass right by him without making a move twards them. He has never bitten anyone, in fact, he goes to nursing homes to do pet therapy.
He was accepted into search and recovery school after learning basic commands and prompts in less then 1/2 hour. He is not just a dog, he's my doggie soulmate. We have had strange dogs come into our yard and my Donas will politely tell them to "get out" doggie style but has never made a move to hurt one.
He was bought in S.C. and has been with me since he was a puppy in 2003. He is a lover not a fighter...He prefers his
meat well done and off of a fork...and loves to strech out on my bed with two pillows under his gigantic head every night. His eyes are what I wake up to every morning....lol
His worst habbit is, he will kick my boyfriend out of bed occasionally and steal his spot, then acts like he's asleep when he's told to "get down" so my bf can take his place again. I am usually laughing so hard at this point that I can't talk to tell him to get down.
The scariest time was when Donas was being walked by a dog walker who was told not to let him get into the sticker bushes 3x's and on the 4th time Donas ended up with a thorn stuck in right his eye so deep I had to take him to a specialist for emergency surg. to save his eye. I am by no means rich so I had to borrow the 3,000 to get him home again. I was crying when I left him as I snuggled my dirty socks under his collar so he could have my scent with him. He made it through fine...but wouldn't eat the 2 days he was there. I missed him terribly!
His worst habbit is the fact that he raids my dirty laundry to sleep with a shirt of mine when I'm working. He makes my life so much better... I would never own any breed of dog besides a American PitBull Terrier! Donas I love you!!!