Douglas
by Colin Pendley
(Port Orchard, WA)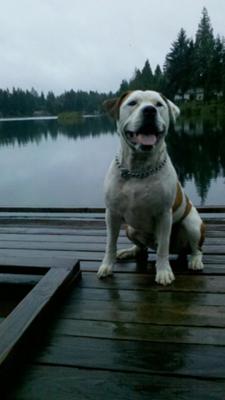 Hey my name is Colin. I am 22 and have been dating my girlfriend Emma since August of 2010. That's how I met the goofiest/laziest/most loving-est creature in my life.
I will be honest and say that I was a little skeptical at first because of what all you hear in the news relating to pitbulls--that they are "crazed baby killers that love to eat people", Turns out it's the complete opposite.
I am really happy that my girlfriend and I met. But I am also happy that this little hairy piglet made his way into my life.
http://www.youtube.com/user/ThePitbullDoug
Are you enjoying this site? Finding it useful?
Your donation in any amount can help us reach out to more people
who want to know the truth about pit bulls.


Thank You for Your Support!

Return to Pit Bull Homepage