Dozer: One big Baby
by Beth Price
(Clanton, Alabama, USA)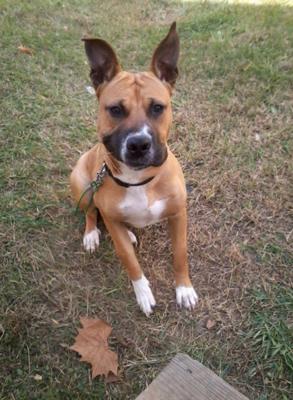 Why must you take sooo many pictures?
I got Dozer from an old friend from high school about a year ago. His mother is a blue pit and I think his dad was a boxer. He was so cute sitting with his brothers and sisters!!! He was so fat, he was almost round and he loved to be held like a baby and would sleep with his head on my shoulder for as long as I would hold him.


I also have two Chihuahuas, Nikki @ 3 years old & 3 pounds, and Diesel @ 2 years old & 6 pounds. As Dozer got bigger, I worried that he would hurt them because they were so small, but you know what? He and Diesel are best friends and Nikki bosses him around like nobody's business!
I have only seen Dozer get upset a couple of times and it's a sight, let me tell you! It's only with one person and that man makes as few appearances as possible at Dozer's house. In Dozer's defense, the man isn't the best example of a human being and I firmly believe that Dozer picks up on this fact.
Today, he weighs almost 100 pounds and he is gorgeous. He still thinks he's a baby, though, and has no problem sitting in my lap or squashing me to death. My furkids are the light of my life and life would be horrible without them.
Are you enjoying this site? Finding it useful?
Your donation in any amount can help us reach out to more people
who want to know the truth about pit bulls.


Thank You for Your Support!

Return to Pit Bull Homepage