Duke - Otherwise Known As Handsome
by Peter and Nat
(Windsor, Ontario, Canada)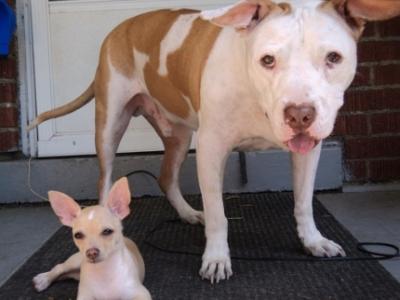 Duke and Brandii
(Click thumbnail for full size image.)
Duke is 12 years young. He is a very special dog to me. I met Duke 9 years ago when I started dating his dad. He was my very first dog friend and WOW I was instantly in love.
I used to hear horror stories about Pitbulls and how evil they are and were they ever wrong. I would have never even imagined love like that could come out of an animal. He is gentle, playful, happy, energetic and most of all loving.
Duke is an avid fetcher. IF you can throw it he will fetch it. But his true love is the B-A-L-L. seriously there is an obsession with the ball and him. Unfortunatly, age has began to slow him down physically, but in his head he can play for hours on end. We have to hide the ball for him to want to stop. It's actually pretty heartbreaking. The look that he gives us when we do that could melt any hardened criminal's heart.
He brings a ball everywhere he goes, for car rides "just in case", walks and even when he sleep there's one close by. When we have company, he will put a ball at your feet. If you ignore him, he will pick up the ball and forcably put it closer to your feet (or on your feet) till you pick it up and throw it. Well, at that moment you are at his beck and call. He will play with you till you give up. It's actually an endearing quality he has.
Recently we brought in a litle girl called Brandii the chihuahua. She is just 3 months old. He is so gentle with her and delicate it's so sweet. Luckily, she's picking up on all his great traits.
Duke is a very special dog and we hope that he will be around for many years to come. What I had the pleasure to learn is that Pitty love is a very special kind of love. It's unfortunate that some pitbulls don't get to show that love to the fullest. Hopefully people will learn that it's not the breed that is evil it is the owners with no love in their hearts.