Excessive jumping from a puppy that's getting too big and strong ;0)
by Victoria Barrales
(Miami)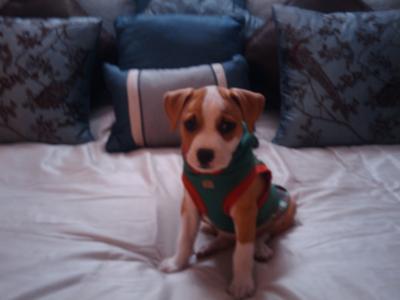 this was her Xmas 2009
Okay, need some help here, I have my baby Zeeba, who by the way would make a cute couple with this handsome top hat fellow.


She's about 14 months old and I cannot break her out of the jumping on people habit. She has my legs bruised from her big old paws and I'm afraid she'll push somebody over one of these days.
Any... suggestions the down, don't jump, knee up, nothing seems to work. Looking forward to some helpful tips.
Gale's Reply:
Hi Victoria:
This is something I think many dog lovers can relate to. Most of us tend to do things with puppies that we know won't work when they are older and bigger. We hold them in our arms and they throw their little paws over our shoulders and nuzzle into our necks. If they put their paws on our legs, we might bend down and scoop them up.
And, then one day, they're too big to hold and carry. When they put their paws on us, it hurts. It's obvious to us something needs to change--but it's not so obvious to the dog.
I see jumping up as primarily 1) a bid for attention and/or 2) an expression of excitement. I've had the best results addressing this on two fronts: 1. Stop rewarding the unwanted behavior and 2. Reward a behavior that's incompatible with jumping up.
Without realizing it, most people reward the jumping behavior by giving the dog what it wants--attention. It's almost reflexive to do this. If you yell at the dog, push them away or struggle with them physically you are giving them attention. Negative attention is still attention.
So, walk away. If you see a jump coming walk away before her paws even touch you. Go into another room for a few minutes if you need to underscore the point that jumping isn't going to get her
what she wants.
The second part is to give her an alternative behavior for which you will reward her. It can be something as simple as having her sit on command. When she sits on command she gets praise, petting--even food treats if that will make a bigger impression. You want Zeeba to know that good things happen when she obeys the sit command.
Eventually, you should be able to give the sit command to prevent her from jumping in situations where she otherwise might. And at some point, she may just realize that jumping is altogether uncool.
So, putting it all together. She jumps or attempts to jump on you. You ignore her and walk away. You come back and ask for a sit. Sit gets her a reward. OTOH, no sit--no reward.
If you haven't yet worked with her on sit, you'll need to do that independently of breaking her of her jumping habit. In case you need it, here's an article about
training your dog to sit with a clicker
.
Once you have her jumping on you under control, you can use the same principles to have her sit nicely when other people come to the door so that she doesn't jump on them.
One last tip, all this requires practice. Zeeba will need repetition before she "gets it". The more you can set up training situations for her the faster she will learn. So, if she tends to greet you with a jump whenever you walk through the door, make it a point to do this several times a day while she's still learning.
By the way, she is a beauty. I can definitely see her and top hat guy together. What a cute couple they would be:)
For more information on obedience training, visit our
Pit Bull Training
page.
For help with behavioral problems, check out our
Dog Behavior Training
page.