Fidget--My first child! :)
by Samantha
(Gilmer)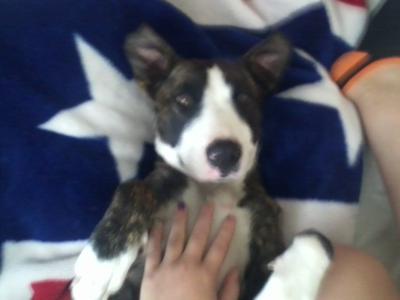 Her now :)
Well here's a few things about my babygirl, Fidget. She got her name because she could just never be still when I got her as a pup. Even in her sleep she was twitching or "running".


She turned two years old in September. She was my first real dog. When I say that, what I mean is I got to pick her out and she was MINE. Most other dogs in my life were family dogs that my Mom would bring home for everyone.
She's not full pit bull, her mother was a Catahoula. She is gorgeous and a very sweet girl. She loves to run and loves to run with me while I'm on a four-wheeler and she loves to swim.
She is very protective and caring of me, in the same way I am for her. I adore her with all my heart :)
Join in and write your own page! It's easy to do. How? Simply click here to return to Pit Bull Pictures.
Are you enjoying this site? Finding it useful?
Your donation in any amount can help us reach out to more people
who want to know the truth about pit bulls.


Thank You for Your Support!

Return to Pit Bull Homepage