Flash Gordon
by Scott L
(Wickenburg, AZ, USA)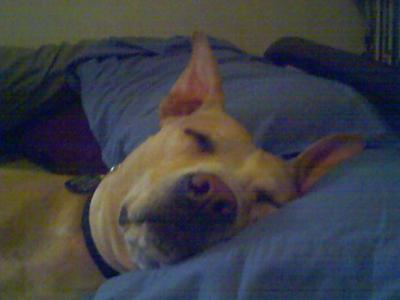 Sleepy Flasher
(Click on a thumbnail to see full-sized image.)
Back in 2005, I was abused and someone made me fight another dog. My masters were mean and starved me until I did what they wanted.
Later, I was saved and spent time in a shelter until I was adopted. The man that brought me home had no clue that I had been baited with cats to make me fight in the Pit. He decided that I had to go but he called a man that loved dogs especially other peoples throwaways. Hopefully that man would make things better for me, I didn't want to go back to the Animal Shelter, they KILL dogs there.
I met my new master and daddy that day. When we met I fell in love with the whole family though I wasn't too keen on the lady called mom. I decided that daddy's bed was his and my place, I had to be trained that it was okay for mom to be in the same bed with us. That's okay, I love mom now too. She loves me a lot and tells me that she is sorry that she wanted daddy to get rid of me when I first came home with them.
When I moved into the house there were 3 other dogs, REcon Ranger (German Shepherd), Chesty Puller (American Staffordshire Terrier) and Cleo (Pit Bull-Beagle mix). We each had our own HUMAN but we had a good pack and my master was the Alpha. Later the German Shepherd and AmStaff died within months of each other and mom got another German Shepherd pup. Zena was 6 wks old and I got a chance to be Doggy-daddy - I loved it.
The Pit Bull-Beagle mix was mean and attacked the new German Shepherd sending her to the vet. Dad told her master the 18 YO boy that he had to find a new home after she had tore into the new puppy and hurt dad. They put her on puppy-Prozac but it didn't work.
After the 3rd attack on the puppy, dad had Cleo put down. It was sad, she wouldn't adjust and just be a happy dog. Then came the Pit Bull puppy, Emira, I love her. Last week dad and mom brought home a German Shepherd, dad named him Gunner and he's okay though he tries to monopolize dad.
All I want is to be part of my family, I love the kids that come over to play with me. Mom and dad take us for walks and dad spends as much time as possible with us. In fact, its really fun when we take over his bed and steal his pillows and the bedspread to make a mountain on the bed. Emira crawls in it, Zena lays on top with me and, well - Gunner, just sits and watches but he starting to make himself known; you know German Shepherds are pretty aloof. He still is learning how to play with us and stays really close to dad, I don't blame Gunner because all of us love to cuddle with dad.
A few months ago, one of my humans was in a bad car accident and almost died. After a couple of weeks, she was moved to a Rehab Hospital and we dogs were able to see her at least once a week. The doctors were thrilled that our girl started to get better faster and then came home 7 weeks after the accident and even better. Our girl went back to work 3 months after the accident. Daddy says it was because she knew she was loved and that the dogs (us) made her feel better every day!
I wish that humans that are so afraid of Pit Bulls would just let me crawl into their lap and let me love on them. There are 10 million and more of us pitties out there and only a small portion want to hurt other dogs, animals or humans. My dad says its because they aren't loved and part of the family.