Harley, the "biker" dog
by Sara Coup
(Spokane, WA)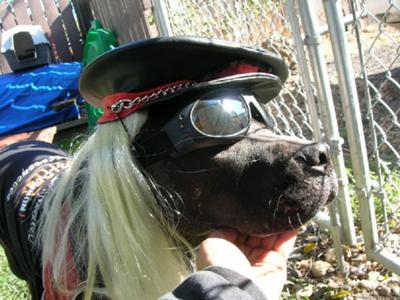 Hello, my name is Harley Davidson Hansen. My story begins when I chose my young master from behind my bars at a shelter a little over a year ago. I refer to him as "my boy". Both he and my mom fell in love with my big chocolate eyes and my goofy personality. My boy named me in honor of his dad who had passed away earlier that year. His dad loved dogs and he loved his Harley Davidson, thus my name.


I love to go for walks, play with my toys and catch a frisbee. My boy and I had so much fun together. Now, unfortunately my boy has passed away and it is me and mom now. We thought it over and figured it was appropriate for me to be a "biker" dog in honor of my boy as he enjoyed Halloween and I could join in the fun. Why else would I be wearing a wig, glasses and hat?
So, until I get to play and ride with my boy that I miss so much . . . I'll have fun remembering the good times and continue to be the "cool dude" that I am. "Treat" me right for Halloween by voting for me, Harley Davidson, the biker dog.
P.S. Please let me know who has bones for treats at their house, I'll hit you up!
Are you enjoying this site? Finding it useful?
Your donation in any amount can help us reach out to more people
who want to know the truth about pit bulls.


Thank You for Your Support!

Return to Pit Bull Homepage