Houdini and Lexy the Pit Bull Twins!!
by Lachell Blea
(Lafayette, Co)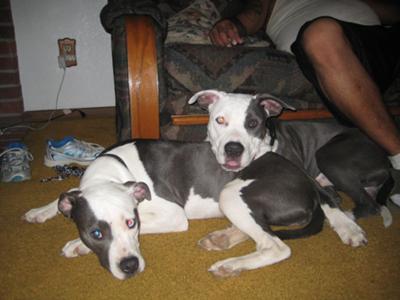 love my brother/sister
(Click thumbnail to see full size image)
They are 8 months old!! My dog Precious, God rest her soul had them in November, and they are the sweetest babies in the world!!
They each have there own cute little personalities I LOVE MY PITS!! We love to cuddle watch tv go for walks and runs!! My son(Houdini) loves to greet momma he cries when I leave for work!! My daughter(Lexy) she is so shy but very loving!!
Return to Pitbull pictures archive August 2010.
Are you enjoying this site? Finding it useful?
Your donation in any amount can help us reach out to more people
who want to know the truth about pit bulls.


Thank You for Your Support!

Return to Pit Bull Homepage