How Old is My Puppy
by Michael
(Indiana)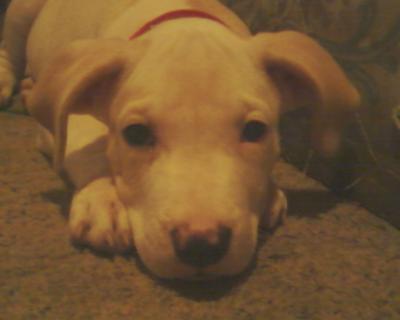 Can you tell me how old is my puppy and whether he is mixed?


We just got this pitbull pup last week from a man who got him outside of walmart. A couple was giving them away. The man had the pup for a few days and was unable to keep him because of his roomate.
The man didn't know much about the pup but we took him anyway because he is so adorable and I didn't want him to end up in the pound.
My question is is there a way to tell how old my puppy is by looking at him and also if he is mixed and if so what is he mixed with. Please help.
Gale's Reply:
Hi Michael:
There's really no way to tell from a photograph how old a puppy is. (He is certainly a cutie though.) Pups tend to get their full set of adult teeth around 7 months of age.
He looks pretty pit-ish, but short of DNA testing, it's impossible to know what he might be mixed with.
Your veterinarian can give you an educated guess about his age and possibly even his breed make-up. And, he needs to go to the vet anyway to get his first set of shots, be checked for parasites and assess his overall health.
Given how he came to you, there's a good possibility he's had little to no vet care up to now. So, make that trip to the vet a priority if you haven't done it already.
Enjoy your new puppy and take lots of pictures. They grow up so fast...
Feel free to write back if you have more questions.