Jacks, My Cowardly Lion
by Shaina
(Chicago, IL)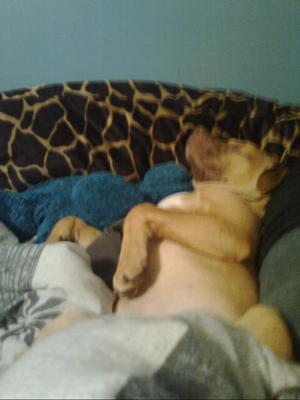 Sleeping with his teddy.
Jacks is 2.5 years old. I got him at 5 months and found out that his breeder hadn't bothered to socialize or train him at all. He came to me afraid of every other new experience.


Over the last couple of years, we've faced his fear of ceiling fans, traffic, strangers, food bowls, and bicycles along with countless other obstacles. Through it all we've bonded closely and Jacks has shown himself to be the most affectionate, gentle, devoted dog I've ever known.
Everyone who gives him a chance falls madly in love with him. He loves puppies and cuddling with his teddy bear. Jacks lives happily with his pittie brothers Tang and Adonis, and 3 cats who love them all. He isn't the most social pitbull, but he demonstrates the love and companionship that makes the breed such a great family pet.
Are you enjoying this site? Finding it useful?
Your donation in any amount can help us reach out to more people
who want to know the truth about pit bulls.


Thank You for Your Support!

Return to Pit Bull Homepage