Jezabelly Jones
by Meg Jones
(Niles, Oh, 44446)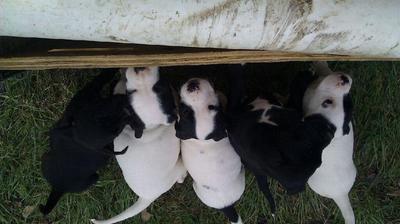 Baby Belly
I have been a Pittie advocate since I met my first one. I am also a Vet Tech who's goal is to within the next few years open my own Pitbull Sanctuary in tribute to all of the fighting dogs I've helped save, they've seen the worst of humanity and I want to personally show them the best of it.


Well 3yrs ago I had a chance to adopt a Pittie pup and I was FINALLY in the proper position to do so, just had to convince my new husband(who had never had a pet before me!!! Seriously! Not 1 single animal in his 37yrs of life!).
Well we had pics of the pups that were 3hrs away being raised by a wonderfully devoted family and low & behold they'd be ready to go to their new homes in time for my birthday that year.
After lots of begging and convincing my husband that my older dog would be more than happy to have a little sister, he agreed to give her a shot. The people raising her and her family said if there were any problems they'd be more than happy to take her back.
Well after the longest wait EVER it seemed LOL, they pulled in our drive way with her. I brought her in and handed her to my husband. She looked in his eyes, chewed his goatee, sighed, fell asleep and my husband had his first 4-legged baby.
The man that had never thought much about anals and had the same FRUSTRATING FALSE PRECONCEPTIONS OF PITBULLS AS ENTIRELY TOO MANY FOLKS DO, BUT THIS DOG MADE HIM BECOME MY PARTNER IN LIFE. BUT ALSO IN MY LIFE OF PITBULL ADVOCACY 💛💛💛 & my birthday present became the other love of his life.
Jezebel also single paw-edly taught my step~daughter and so many others not to judge a dog by their breed and has helped my dream of having a Pittie obsessed family come true.
I'm currently trying to get her service training certificate so that I can start taking her to schools, nursing homes, anywhere she can put a much needed smile on faces and breed information in people's brains