JUNE BUG--One Lucky and Now Lazy Pit
by Christine Jenkins
(Mesquite Texas)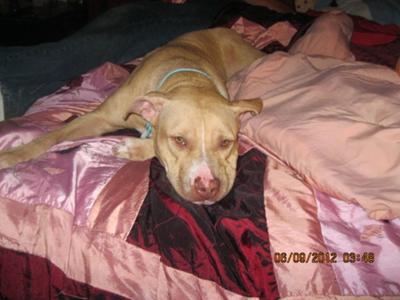 She is almost a year old. We got her from my nephew. He lived in an apartment that would not let him keep pit bulls.


He knows what a dog lover I am. I could not let him take her to the pound because I knew what they would do to her. I said I would find a home for her so I did.
My husband had a friend whose mom would love her. But I overheard him make a comment that she would be left in a back yard and would never be talked to. So I made him bring her back.
Then she had got parvo. So I took her the vet and my vet said she might live if she had someone to take good care of her give her her meds and a whole lot of love (TLC).
SO GUESS WHAT--THAT WAS ME! I love this dog so much. I think that God knew I would not let her down because last year my dog Harley D was stolen from me. He was a poodle/mix (what a diff). I had him 11 years and I missed him so much that I think that God knew I needed June Bug as much as she needed me.
So to make this long story short, she is healthy and very strong and a very spoiled dog. I was always so scared of pit bulls. But she has proved me very wrong. I love her so much I will never see pit bulls the same as I once had. They need love too.
Are you enjoying this site? Finding it useful?
Your donation in any amount can help us reach out to more people
who want to know the truth about pit bulls.


Thank You for Your Support!

Return to Pit Bull Homepage