Juno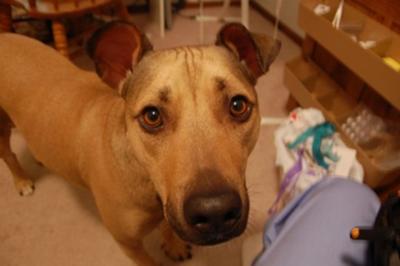 (Click thumbnail to see full size image.)
Juno is 6 years old. Originally I owned her mom, which is a red nose pit, and I had to give her away to a friend as I could not afford her at the time. A few years later Sasha, Junos mom, had pups and I just had to have one.
So when I first got her I had to stay in the camper with her as she was too noisy for the family at night. I had her in a pet taxi at first for a few nights but not long after I would let her lay with me.
One night we were playing around, fighting, on the bed. At one point she was backing up and growling like she was tuff and the next thing she new she was over the edge of the bed. Lol I jumped over the bed and moved the cover off of her and her look of what the hell just happened was hilarious!
Her best quality is her personality. It is hard to describe but she is just full of joy and love.
Juno and I like to take walks in the morning.
We've been doing it for so long now she knows, no matter what the weather is outside, if I'm getting ready to go walk--usually the stretching gives it away. When she sees me stretching then she starts stretching and smiling.
She's def one of the best things that's ever happened to me and I love her to death!
Return to Pitbull pictures archive August 2010.
Are you enjoying this site? Finding it useful?
Your donation in any amount can help us reach out to more people
who want to know the truth about pit bulls.


Thank You for Your Support!

Return to Pit Bull Homepage