KAIN THE "DEVIL"
by Brian Conley
(Warner Robins, GA, USA)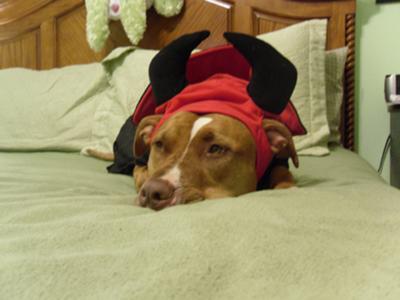 This is Kain the 2 year old little devil she is the most lovable, kissable, snuggle bug that thinks she is human. She came into our life when she was 8 weeks old and since then she loves to cuddle up in the bed and watch tv and sleep all day. She thinks she owns the house and the bed.


She loves everything--people and other animals. Her favorite toy is a basketball and tires. She also loves running next to the bike and going for long walks. She lives in the house with another pitbull, a lab, and a pekingese.
She should win this contest because she loves wearing anything and just being funny doing it. She will always make you smile and she knows when somebody doesn't feel good cause she will come and kiss them and show them a lot of attention to try and make them happy.
Are you enjoying this site? Finding it useful?
Your donation in any amount can help us reach out to more people
who want to know the truth about pit bulls.


Thank You for Your Support!

Return to Pit Bull Homepage