...KRAKKAZ...
by rukkus
(melbourne, australia)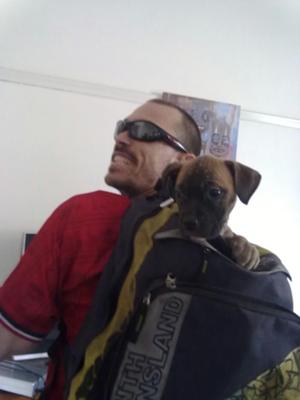 this is her first day out as a pup
This is my girl "KRAKKAZ". i got her when a mate came over and said he was getting a pup, so I said I WANT ONE!!!! GET ME A GIRL!!!! and pretty much within a week we had twin girls. me and my mate both skate, so dvs named his girl "INDY". they were born on the 27th of march, 2010. (i just farted and krakkaz is sniffing it as i type! hahaha!!! what a trippa!!!).


Krakkaz loves pulling me on my skateboard so much i swear she's addicted to it. as soon as she hears any type a chain she's at the front door, she sees me put on sunnys, or a hat, or my shoes, or pick up my bag, or move my board, or even think about leaving the house, shes at the front door, or right in my way with eyes wide open and ears pricked up , and u know shes about 3 seconds from yelling at me in dog "COME ON! HURRY UP!!!! COME ON!!!!! HURRY UP!!!!! GOTTA RUN, GOTTA RUN, GOTTA RUN, GOTTA RUN!!!!!!!!" and when we get out the front onto my board she pretty much almost dislocates my shoulder as she takes off running shouting to all the dogs down the street "OMRUMMIN OMRUNNIN!!!!!!!!!! OMRUNNIN OMRUNNIN!!!!!!!!! OMRUNNIN OMRUNNIN!!!!!!!!!!!!!!!!!! FASTERFASTERFASTERFASTERFASTERFASTER!!!!!!!!!!!!!"
This has got to be one of the funnest parts of my life. my mates staffy "G" used to be my engine, but alas she is now 11 and cant really keep up anymore. poor ol girls back legs are sort of protesting a bit these days u see. but more about krakkaz. when i stare at her with a strange face from across the room she freaks out. its like she doesnt know how to take it, so she starts bouncing like an idiot backwards and forwards doin a funny talky noise which turns to barking. i rekn shes sayin "stoppet mannnnnn!!!!!! yer freaken me ouuuut!!!!!!!!!!!!!" which in turn makes me kak myself laughing and i have to cuddle her!!! shes so beuatiful!!! so um.... i luvs my puppy!!!!! OI!!!!!
Join in and write your own page! It's easy to do. How? Simply click here to return to Pit Bull Pictures.
Are you enjoying this site? Finding it useful?
Your donation in any amount can help us reach out to more people
who want to know the truth about pit bulls.


Thank You for Your Support!

Return to Pit Bull Homepage