Lady Butt Butt
by Aditi Terpstra, CPDT
(Winona, MN, USA)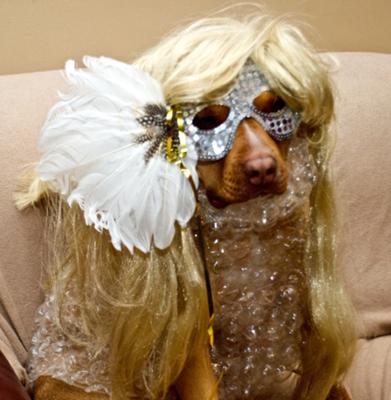 Lady Butt butt as Lady Gaga
Emma is doing her best to emulate Lady Gaga. Emma is a three year old American Pit Bull Terrier, she was rescued off the streets and adopted by us when she was six months old.


When she was one year old she tore her CCL's in both knees and needed to have surgery. Thankfully she made a full recovery and now plays and runs around with the best of them. Emma is wonderful breed ambassador, she loves people and adores children. She has helped educate many youth and adults about the breed and about being kind to animals.
Emma has several nick names, including butt-butt. We decided to dress her up as Lady Gaga because Lady Gaga is all about embracing people for who they are, not being judgmental or discriminatory. This exactly how we want people to be about the Bully breeds too! Look at each dog as an individual!
Are you enjoying this site? Finding it useful?
Your donation in any amount can help us reach out to more people
who want to know the truth about pit bulls.


Thank You for Your Support!

Return to Pit Bull Homepage