Lennon & Blue, My Four Legged Babies
by Jamie
(WI)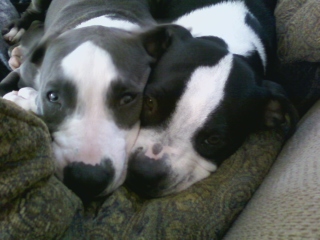 my beautiful pibbles
I was never a fan of dogs growing up. We always had one or another (usually some form of hunting dog; golden retriever, springer spaniel, cocker spaniel, etc.) They barked a lot, were always kind of in the way. Plus I had my own thing going on as I was a teenager. I thought I was a bad-ass and always getting into trouble.


Fast forward 15 years and I find my life redeemed. I have 2 sons (13 & 11, I started young), married to a truly good man that I've been with for 5 years. We own our home and I also have 2 step-sons (10 & 8).
The thought of owning a dog crept into my head and I couldn't, no matter how hard I tried, shake it so I embraced it. I started searching on petfinder.com for a pit, unbeknownst to my husband, and found an adorable little black & white pup that no matter how much I looked around I was always drawn back to.
He was an abandoned pup that was rescued by the foster home from a high kill shelter in Indiana. I felt in my heart that he was meant to be ours. At the same foster home was also a viszla/red nose mix so I left it open between the two, hopped in my car, drove to the pet store, bought everything I could possibly need for our new family member and made my trek (2.5 hours) out to the foster home.
I only told my husband of my plans the day before. (he wasn't thrilled but knows me well enough to know that once I have my heart set on something there's nothing you can do to change it).
When I got there, this little man who I'd had my eye on was right out in the front yard as if he was waiting for me and when my son & I got out of the car he came running up and jumped right into my arms. Sold!
It was clear that everything I felt was correct and he was meant to be ours, for he chose us. I gave the other dog fair credit and asked to see her as well, it was also clear from the start that she was totally uninterested.
I filled out the adoption paperwork and took my new baby home. His name is Lennon, he is a black & white boston terrier/pit mix. He's 1.5 years old and 42 lbs. There is not enough positive I can say about him, as a matter of fact, I have no complaints except that he may be too loving, lol.
After getting Lennon my husband and I discussed a very stringent list of criteria that would have to be met before we even considered another dog. I think his intention was that if this "list" was abided by I wouldn't come home with another dog. I laugh because he couldn't have been more wrong.
Fast forward again a year later and I get a
call from my sister telling me that she was driving to work and saw a sign out in someones front yard that there was a female blue pit for sale with a phone number. I called the number, spoke to the owner and wouldn't you know it, every single item on that "list" was met.
I called my husband, shared everything I had found out and he jumped on the opportunity, which was a surprise to me. Also a surprise to me was that I was feeling a bit more reserved about it.
We set up a time a few days later to meet her. When we arrived there was not that "instant connection" that I felt with Lennon, that could be because there were 4 chihuahuas there that she was having a great time messing with and/or the fact that she was much younger than Lennon was when we got him, only 8 weeks old.
We decided that we wanted to bring Lennon to meet her before making any decisions, so when we did a few days later the connection was obvious, she fell absolutely head over heels in love with him.
She immediately began following him around everywhere and he tolerated her very well, they even played together very nicely. She was meant to be his. Her name is Blue, she is a blue & white pit, she's 6 mos. Old and 40 lbs.
Their personalities differ greatly. He is more timid, ridiculously obedient & intelligent, very clingy and loves to snuggle all the time. She is very stubborn & head strong, spunky & the obedience is proving to be a bit more of a challenge with her but she's still a pup, only 6 mos.
Blue is already fiercely loyal and protective of her human brothers, she is very vocal as she'll sit at the back door and cry when all the kids leave for school. Lennon does not show the same devotion but he does love the kids and tolerates them amazingly. I cannot imagine my life without these 2 dogs. I already dread the day they pass away because I know for me, it will be like losing a child.
Since adopting our last pup I've become a very outspoken advocate for these dogs, I take them everywhere I go and always try to create opportunities for people to meet them, get to know them and ask questions. My oldest, Lennon, will soon be going in to earn his canine good citizen certification and once Blue is on par with her obedience I plan to take her to get certified as well.
I plan to also certify both of my dogs for service. I feel that with more credentials comes more opportunity to expose people to this breed. My personal mission is to change as many hearts and minds as I can, to change the negative stereotypes and show that with proper treatment and training these dogs can be the best thing that happens to you, I know they were for me.